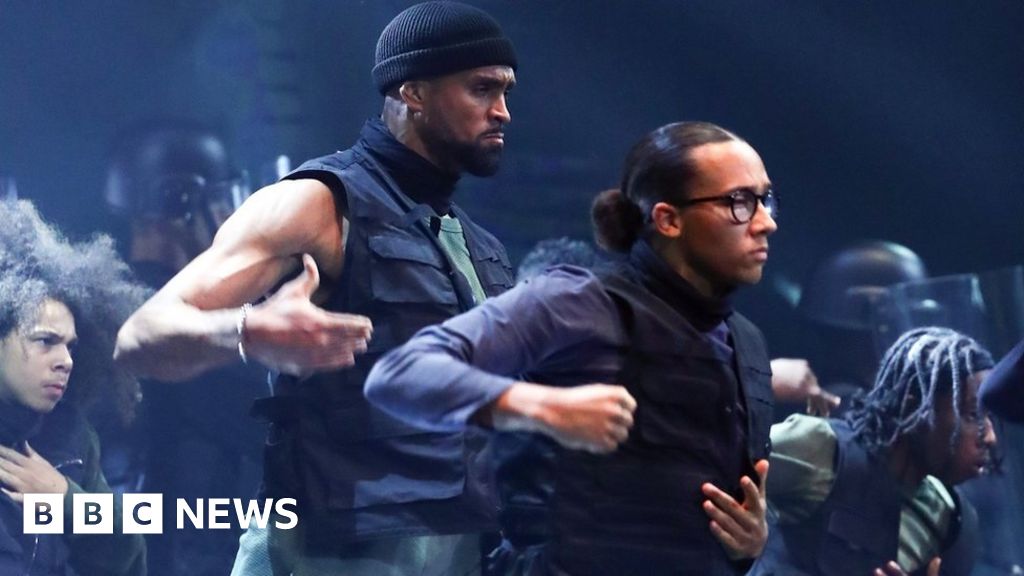 Image rightsShutterstockImage descriptionAshley Banjo (left) also sits as a judge for Simon Cowell
Diversity's controversial Got Talent routine in the UK, which has generated thousands of complaints, is ahead of the must-see award at TV Baftas.
Inspired by the Black Lives Matter movement, Ashley Banjo was kneeled by a police officer, a clue to George Floyd's murder.
Ofcom received 24,500 complaints about the segment but said the program did not violate broadcasting guidelines.
Scenes from Bridgerton, Gogglebox and EastEnders are also coming up for the Bafta.
Viewers have until May 24th at 5:00 p.m. CET to vote for the winner – the only Bafta Prize approved by the public.
The winner will be announced at the ceremony on June 6th, which will be hosted for the second time by comedian Richard Ayoade.
But unlike last year, the prizes will be presented in person at a location that will be announced.
Here is a guide to the shows and scenes that are on right now.
WARNING: The six nominees are detailed below, and reveal plot details about shows you may not have seen before.
1. Diversity in Britain's Got Talent
Image rightsDymond / Thames / Syco / Shutterstock
Diversity's accomplishment was their take on the events of 2020, and specifically the protests against Black Lives Matter following the murder of George Floyd by the now-jailed Derek Chauvin police offering last May in Minneapolis.
It was set to a mix of powerful music and used the viral poem The Great Realization to portray the coronavirus pandemic as well as the BLM movement.
A total of 24,500 people complained about the routine in which the lead dancer and LTB judge Ashley Banjo were kneeled by a white performer, an indication of George Floyd's murder.
Banjo said diversity "wanted to express how we felt through the events of this year".
2. Bridgerton – Lady Whistledown is revealed
Image rightsLIAM DANIEL / NETFLIXImage descriptionBridgerton's second series is currently in production
After a gripping first series of the steamy Netflix costume drama, the mysterious high society gossip columnist Lady Whistledown who propels the narrative was finally exposed.
Voiced by Dame Julie Andrews, the writer has stirred up London's aristocracy by revealing her most intimate secrets in her scandal sheet while hiding her identity. But in the final episode, a dramatic flashback revealed their true identity to viewers.
A plan to catch her while she was printing her last letter was foiled by Eloise Bridgerton, who believed Genevieve Delacroix was the writer. But when Eloise discovered that Genevieve had an alibi, she realized the secret remained.
Then Lady Whistledown was seen escaping in her car in a dramatic flashback before removing her hood to reveal her face.
3. EastEnders – Gray kills Chantelle
Image descriptionGray Atkins (Toby Alexander-Smith) and Chantelle Atkins (Jessica Plummer) in EastEnders
The character of the soap Gray Atkins had physically and mentally abused his wife Chantelle for years. But Chantelle finally gathered the courage to stand up against her husband. Humiliated, Gray refused to let Chantelle go and murdered her in a heated argument.
In the scene, a scared but determined Chantelle forced Gray to listen as she told him she would go and take the kids.
After openly declaring that she fell in love with him, the scene reached its harrowing end. A defiant Chantelle yelled at Gray to get out of her way. Humiliated, he refused to let her go, which resulted in her tragic death.
4. Gogglebox – reactions to Boris Johnson's press conference
Image rightsChannel 4Image descriptionGiles and Mary are among the contributors who appear regularly on Gogglebox
On this particular episode of the Channel 4 show, the National Chair's critics came out about the time Boris Johnson returned to work after his battle with Covid-19, and outlined his administration's plans to fight the spread of the disease .
They became increasingly confused about lockdown measures while discussing the need to be cautious versus wanting to go to the pub.
5.Nigella: Cook, Eat, Repeat – 'Mee-cro-wah-vay'
Image descriptionNigella Lawson has her own special way of doing things, including unusual ways of pronouncing kitchen implements
The scene: The self-proclaimed house goddess Nigella Lawson was busy making a shabby-sounding brown butter kettle in her kitchen.
Talking to the camera in her unique Nigella way, she walked up to the mashed potatoes step and peeked into the pan for the onlookers.
As she added a splash of milk, she turned to the camera and … confused everyone with an unusual pronunciation.
"I'm aiming for a firm mash at this point, but I still need to add some milk that I warmed in the Mee-Cro-Wah-Vay" (that's microwave for the rest of us).
6. The Mandalorian – Luke Skywalker appears
Image rightsLucasfilm Ltd.Image descriptionGrogu is a child of the same breed as the Star Wars character Yoda
Baby Yoda – aka Grogu – had been rescued in The Mandalorian's series finale, but the title character and his allies were still trapped aboard Moff Gideon's spaceship when Imperial Dark Troopers approached.
A lone X-Wing starfighter appeared out of nowhere and landed in the ship's docking bay. Enemy droids turned to meet the newcomer – a mysterious, hooded figure in black that it instantly cut into pieces with a green lightsaber.
After the Dark Troopers disappeared, the Mandalorian ordered the explosion doors open and the shadow figure to enter. As he pulled his hood down, the audience gasped – it was young Luke Skywalker, CGI-recreated, who had arrived to take Grogu under his care.