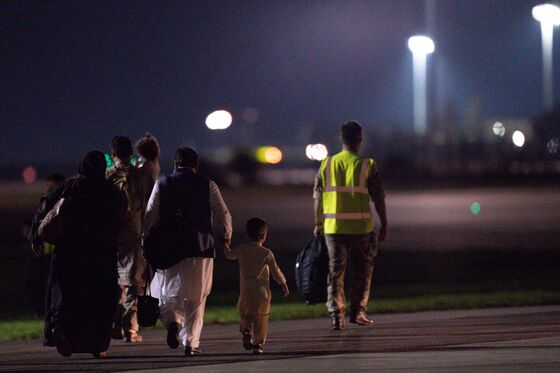 President Joe Biden vowed to complete the U.S. evacuation mission in Afghanistan after at least 12 U.S. service members were killed in explosions outside Kabul's international airport. He also promised that those responsible for the attacks would "pay."  
"We will not forgive, we will not forget, we will hunt you down and make you pay," Biden said at the White House on Thursday evening. 
At least 60 Afghans also died in the explosions along dozens more people wounded less than a week before U.S. forces are to depart. 
The Associated Press reported the Afghan death toll, citing an an Afghan official. An additional 15 U.S. service members were wounded.
The attack came as North Atlantic Treaty Organization-member nations began winding down evacuations. Canada, Denmark, the Netherlands and Belgium have announced they are no longer organizing flights from Kabul's airport. With President Joe Biden sticking to his Aug. 31 withdrawal deadline, the window for airlifts is closing fast.
Key stories and developments:
All items are in Eastern Time:
Biden Pledges to Hunt Down Attackers (5:50 p.m.)
Biden said that a group known as Isis K was behind the assaults near the Kabul airport on Thursday. 
"To those who carried out this attack, as well as anyone who wishes America harm, know this: We will not forgive. We will not forget. We will hunt you down. And make you pay," Biden said during an address to the nation on Thursday eveing. "I will defend our interests and our people with every measure in my command."
"We will not be deterred by terrorists," Biden added. "We will not let them stop our mission. We will continue the evacuation. I also ordered my commanders to develop operational plans to strike Isis K assets, leadership and facilities."
McCarthy calls for Congress to return to address attack (3:59 p.m.)
House Minority Leader Kevin McCarthy called on Speaker Nancy Pelosi to bring Congress back into session to address Wednesday's attack, adding that "our enemies have taken advantage of the chaotic nature of the withdrawal."
The California Republican said lawmakers must return before Aug. 31 for briefings from the administration and to pass GOP legislation barring the withdrawal of U.S. troops until every American is out of Afghanistan. Pelosi did not respond directly to McCarthy, but said she has requested the executive branch brief lawmakers. 
House Intelligence Chairman Adam Schiff said his panel would investigate the withdrawal and its aftermath. — Laura Litvan
Biden to speak about deadly Kabul attack (3:45 p.m.)
Biden plans to address the nation Thursday on the attack outside the Kabul airport in remarks delivered from the White House.
He's scheduled to speak at 5 p.m. from the East Room. — Josh Wingrove
U.S. says most Americans in Afghanistan taking steps to exit (3:23 p.m.)
The U.S. State Department said it's in contact with about 1,000 Americans it believes remain in Afghanistan and over two-thirds of them indicated they're taking steps to exit the country.
The U.S. has concluded 500 of the 1,500 Americans it was earlier tracking as being in Afghanistan have been evacuated, the department said in a statement.
The department also said that it has heard from about 500 people in the last 24 hours who claim to be Americans seeking to leave the country. The U.S. is seeking to contact those people but the department said many of those people may not really be American citizens. — Sophia Cai
U.S. Says Islamic State Likely to Blame (3:09 p.m.)
The head of U.S. Central Command said militants from Islamic State were likely behind the pair of blasts outside Kabul's airport and said "if we can find who is associated with this, we will go after them." 
General Kenneth McKenzie said he expects more attacks as the U.S. moves to continue evacuations and pull American forces out of Afghanistan by Aug. 31. He estimated that just over 1,000 Americans remain in the country, though he said he doesn't know how many want to leave. 
"ISIS will not deter us from accomplishing the mission, I can assure you of that," McKenzie said. –Tony Capaccio and Peter Martin
Death toll includes Marines, Navy medic (2:50 p.m.)
Those who died in the attack outside the Kabul airport include 11 Marines and one Navy medic, according to a U.S. congressional aide briefed by the Pentagon. — Tony Capaccio
Biden-Bennett meeting moved to Friday (2:33 p.m.) 
Biden postponed until Friday talks with Israeli Prime Minister Naftali Bennett after the attack outside the Kabul airport, according to the White House.
Pentagon Says Several Service Members Killed (1:27 p.m.)
Pentagon spokesman John Kirby said "a number" of U.S. service members were killed in the attacks and others are being treated for wounds.
Kirby said in a statement that "a number" of Afghans also died in what he called a "heinous attack." 
Taliban Says 13 Afghans Killed in Attack (12:36 p.m.)
The Taliban said initial reports indicated 13 Afghans were killed and 52 others were wounded in the attack outside the Kabul airport.
Taliban spokesman Zabihullah Mujahed said by phone that the number of casualties could increase. — Eltaf Najafizada
Biden Delays Meeting With Israel's Bennett (11:42 a.m.)
A White House meeting set for Thursday morning between Biden and Israeli Prime Minister Naftali Bennett has been delayed after the violence in Kabul.
The Biden administration hasn't announced a new time for the talks. The two leaders plan to discuss what both countries consider to be an alarming acceleration of Iran's nuclear program. — Josh Wingrove
Time to 'Step Up' on Refugees, EU Says (10:08 a.m.) 
The European Union's home affairs chief said Thursday that countries need to work together urgently to avoid a migration crisis in Afghanistan as she heads to Washington for meetings.
"We need to step up on resettlement" of refugees from Afghanistan, EU Justice and Home Affairs Commissioner Ylva Johansson said in an interview Thursday before departing for the U.S. She added that Europe and the U.S. also need to figure out how to support Afghans who remain in the country, as well as those who have fled to neighboring countries. — Kevin Whitelaw and Richard Bravo
Pentagon Confirms Explosion Outside Airport (9:55 a.m.)
Pentagon spokesman John Kirby said there had been an explosion outside of Kabul's Hamid Karzai International Airport, hours after the U.S. and U.K. governments warned their citizens to avoid traveling to the airport because of the risk of attacks.
"We can confirm an explosion outside Kabul airport," Kirby tweeted. "Casualties are unclear at this time. We will provide additional details when we can." — Kathleen Hunter
U.S. Evacuation to Continue 'Until the End,' Pentagon Says (9:12 a.m.) 
Pentagon spokesman John Kirby sought to tamp down speculation that the U.S. would end its evacuation efforts Friday, in keeping with plans to shift to getting military personnel out of the country as President Joe Biden's Aug. 31 departure deadline approaches.
"Evacuation operations in Kabul will not be wrapping up in 36 hours," Kirby tweeted. "We will continue to evacuate as many people as we can until the end of the mission." — Sophia Cai
Canada Ends Evacuation Efforts, AP Says (8:20 a.m.)
Canada has ended evacuations from Kabul's airport, the Associated Press reported, citing comments from General Wayne Eyre, the country's acting chief of Defense Staff.
"We stayed in Afghanistan for as long as we could. We were amongst the last to cease evacuation operations. We wish we could have stayed longer and rescued everyone who was so desperate to leave. That we could not is truly heartbreaking, but the circumstances on the ground rapidly deteriorated," Eyre said. 
Canadian military flights evacuated about 3,700 people, according to AP. — Charles Capel 
Johnson Says U.K. Evacuated 15,000 People (7:23 a.m.)
Prime Minister Boris Johnson said the U.K. has airlifted some 15,000 people out of Afghanistan in its biggest such operation in decades. He reiterated his remarks from earlier in the week that the number one condition attached to any aid money that might flow to Afghanistan is that the Taliban allow "safe passage" for people who want to leave the country. — Alex Morales
Germany Winds Down Military Missions on Terror Risk (7:18 a.m.)
German defense minister Annegret Kramp-Karrenbauer said that European allies have begun to close down their military missions at Kabul airport because the terror risk has become too big. "This is a highly difficult, dangerous situation, and phase 1 of the evacuation will end very soon," Kramp-Karrenbauer told reporters on Thursday. "Now phase 2, the diplomatic phase, will start."
This morning, another A400M left the airport. Three more will follow today. After that, they will start to fly out the troops. Germany has so far flown out 5,200 civilians which includes 4,200 Afghan co-workers and 505 German citizens. — Arne Delfs
London Mayor Announces Refugee Support Plan (5:00 a.m.)
Sadiq Khan welcomes the U.K. government's plan to resettle up to 20,000 Afghan refugees and says he is expanding the new Right to Buy-back fund to help councils buy homes that can be used to resettle families arriving from Afghanistan. The Mayor is also calling for housing associations to apply for funding for suitable homes.
"London has a proud history of providing sanctuary to those in need and by working together we can help these refugees find a welcoming home in our city," Khan said in a statement Thursday. — Tiago Ramos Alfaro 
South Korea Airlifts Evacuees (3:40 a.m.)
A South Korean military aircraft carrying 378 evacuees from Afghanistan arrived at Incheon International Airport outside of Seoul on Thursday, the Foreign Ministry said. 
The government said earlier a total of 391 Afghans, including dozens who aided Seoul's efforts to help in the country, were set to arrive in South Korea from Pakistan. The remaining 13 would arrive later and all of the evacuees would be provided with financial, educational, medical and employment assistance, the presidential office said. — Jeong-Ho Lee
U.K. Plans 11 Flights in Next 24 Hours (3:30 a.m.)
U.K. Armed Forces Minister James Heappey told ITV the country plans 11 flights in the next 24 hours, with a capacity of more than 3,000 passengers, but warned Taliban security checks were the main limiting factor on getting people out of Afghanistan.
"It's never been about capacity on planes," he said. "This is about access to the airfield." He also said the flights shouldn't be considered the U.K.'s last.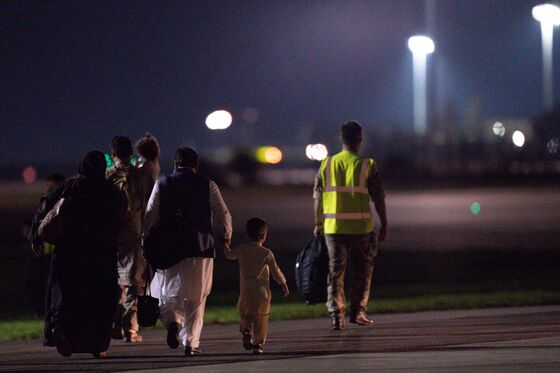 Separately, Heappey told Sky he wouldn't disclose when the U.K. will make its last evacuation flight because of the risk of creating a "panic" on the ground. — Alex Morales
Afghanistan's Second-Largest Airport Opens (2:00 a.m.)
Kandahar International Airport, will "slowly resume its operations" after a week-long closure, a Taliban official said on Twitter.
"The second international flight landed at Kandahar airport from Dushanbe, Tajikistan, a group of MSF doctors have arrived," said Ahmadullah Wasiq, the deputy head of Taliban's Cultural Commission.
Kabul's Hamid Karzai International Airport has been closed for commercial flights for more than 10 days while the Kandahar airport has been shut since the Aug. 15 takeover by the Taliban. Thousands of Afghans have been waiting at the airport in Kabul hoping to be evacuated by the U.S., U.K. and other countries.
Taliban's spokesman Suhail Shaheen had said Wednesday the Aug. 31 exit of all foreign troops will pave the way for the resumption of civilian flights. — Eltaf Najafizada
U.K. Issues Airport Alert (3:00 a.m.)
The U.K. Foreign, Commonwealth and Development Office is advising people not to travel to Kabul's Hamid Karzai International Airport, saying there is an "ongoing and high threat of a terrorist attack."
"If you are in the area of the airport, move away to a safe location and await further advice," it said. "If you can leave Afghanistan safely by other means, you should do so immediately." — Alex Morales
Afghan Banks Open, Taliban Halt Dollar Exodus (1:00 a.m.)
Afghan banks re-opened after more than 10 days, Zabihullah Mujahed, a Taliban spokesman, said by phone. Banks shut down soon after the militants took over Kabul on Aug. 15. ATMs had been running out of cash since then, causing prices of essential commodities to spiral.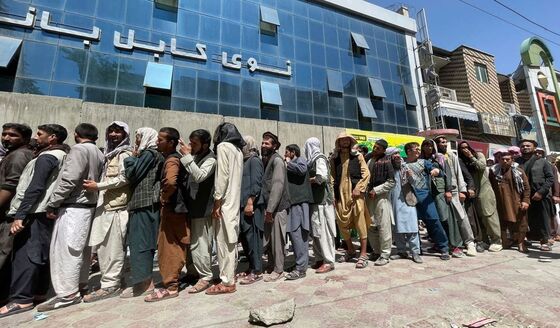 "Smuggling and transferring dollars and antiquities" outside the country by land and air was prohibited, Mujahed said, and those not following the rules would face legal action. He didn't specify what those actions might be.
With the vast majority of the Afghan central bank's more than $9 billion in assets frozen by the U.S., the country faces a potential economic crisis and the Taliban is anxious to stem a dollar exodus. — Eltaf Najafizada
Turkey May Run Kabul Airport After Troops Exit (11:30 p.m.)
Turkey could take on the running of Afghanistan's main airport as a professional service after its soldiers leave, if talks underway lead to an agreement, Ibrahim Kalin, spokesman of President Recep Tayyip Erdogan said.
Ankara expects a "positive" result on keeping the Hamid Karzai International Airport up and running, Kalin told Turkey's NTV channel late Wednesday. He added that the mission was "important in terms of maintaining relations and for the recognition" process of any Taliban-led government.
Turkish troops are part of the NATO non-combat mission in Afghanistan. — Selcan Hacaoglu
State Department Issues Airport Warning (8:45 p.m.)
The U.S. State Department advised its nationals living in Afghanistan to avoid traveling to the airport in Kabul due to security threats. It also told people at certain gates to leave those areas immediately.
Taliban Denies Bin Laden Link (8:15 p.m)
Taliban spokesman Zabihullah Mujahed told NBC News there was no proof Osama bin Laden was involved in the Sept. 11, 2001 attacks on the U.S., despite America's accusations. "There is no evidence even after 20 years of war, we have no proof he was involved," he told NBC. "There was no justification for this war. It was excuse for war."
When asked about the U.S. withdraw from Afghanistan, he told NBC: "The withdrawal is almost finished. These are our happiest moments."
Australia Evacuates Another 1,200 (7:45 p.m.)
Australia has evacuated another 1,200 people from Kabul through six flights, bringing the total it has removed from Afghanistan since it fell to the Taliban to about 4,000 people.
More flights are planned for Australian citizens, visa-holders and some Afghan citizens, Prime Minister Scott Morrison told reporters in Canberra on Thursday. "It remains a highly dangerous environment," Morrison said, adding "the danger and those risks have been increasing each and every day." — Jason Scott 
Biden, Governors to Discuss Resettlement (7:10 p.m.)
Biden is to meet Thursday with a group of governors who have agreed to help resettle Afghans evacuated in the airlift from Kabul, according to the White House.
The president will hold the session with the bipartisan group virtually. The Afghan evacuees, including those admitted under special immigrant visas or SIVs, are being screened and vetted by security experts and public health officials as part of the relocation, the White House said. 
Earlier Thursday, Biden is to discuss the situation in Afghanistan with his national security team, according to his schedule. 
Meeks Says Review of Biden, Trump Decisions (4:41 p.m.)
The head of the House Foreign Affairs Committee said his panel will review "the policies that led to the Taliban's reestablishing control of the country, including those that drove the Trump Administration's February 2020 agreement, and how this will impact the United States' broader Afghanistan and counter-terrorism strategy."
Representative Gregory Meeks of New York made the comments following two days of classified briefings on the situation in Afghanistan. 
"It is not how you start, but how you finish, and I know history will judge what happens over the coming days as we evacuate those Americans who wish to leave and all those Afghans who supported our efforts in Afghanistan over the past 20 years," Meeks said in a statement. — Billy House
U.S. Knows of 1,500 Americans Remaining (2:50 p.m.)
The U.S. knows of about 1,500 Americans who are still in Afghanistan but doesn't believe all are seeking to leave the country, Secretary of State Antony Blinken said Wednesday. 
He told reporters that the U.S. continues to be "relentless in our outreach," citing 20,000 emails and 45,000 phone calls attempting to reach Americans.