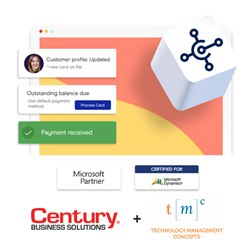 "The partnership will streamline the workflow, avoid duplicate data entry and make payment processing in Dynamics 365 Business Central more efficient."
IRVINE, California (PRWEB)
January 22, 2021
Century Business Solutions is proud to announce that it has partnered with Technology Management Concepts, a gold-certified Microsoft partner specializing in the implementation of financial and business management systems, to enable credit card processing directly in Dynamics 365 Business Central.
The Century Business Solutions development team created a payments integration for Dynamics 365 Business Central that uses Century's proprietary payment gateway, EBizCharge, to provide credit card processing to thousands of merchants across the country.
Century's credit card integration enables merchants to process credit cards directly in Dynamics 365 Business Central.
The powerful EBizCharge payment gateway lowers processing fees by sending the details of the line items directly to the bank. EBizCharge is fully PCI compliant and offers advanced data encryption and tokenization technology to ensure maximum transaction security in Dynamics 365 Business Central. EBizCharge is compatible with over 100 leading ERP and accounting systems as well as major online shopping carts, and offers unlimited transaction and batch history for reporting purposes.
EBizCharge enables users to run custom reports, sort transactions by category, and instantly release funds on refunds.
The partnership between Technology Management Concepts and Century Business Solutions will help to optimize the workflow, avoid double data entry and make payment processing in Dynamics 365 Business Central more efficient.
About Century Business Solutions

Century Business Solutions is reinventing the way companies accept credit card payments with their all-in-one payment solution, EBizCharge. One of the top payment gateway alternatives to its more expensive and inefficient counterparts, EBizCharge is specifically designed to reduce the costs and inefficiencies of payment processing. EBizCharge can be seamlessly integrated with over 100 accounting, ERP, CRM and shopping cart systems, including QuickBooks, Sage, SAP B1, Microsoft Dynamics, Acumatica, Magento and WooCommerce. Century is a partner and certified with Microsoft Dynamics, Acumatica, SAP, Oracle, QuickBooks, WooCommerce, Magento and many others. More information is available at https://www.centurybizsolutions.net.
Learn about technology management concepts

Technology Management Concepts (TMC), the leading Microsoft Dynamics partner in Southern California, was founded in 1987 and currently has over 350 current Microsoft Dynamics ERP clients. We have completed over 1,500 ERP implementations and our team has well over 500 years of combined consulting expertise.
TMC has been a gold certified Microsoft partner for over 19 years. In 2017 we were nominated for the second time for the famous INC 5000 Fastest Growing Businesses. TMC is also a member of the Microsoft President's Club and has been featured in the Bob Scott and Accounting Today Top 100 VAR Awards for over 10 years in a row. Please visit https://abouttmc.com/ for more information.
Share articles on social media or via email: