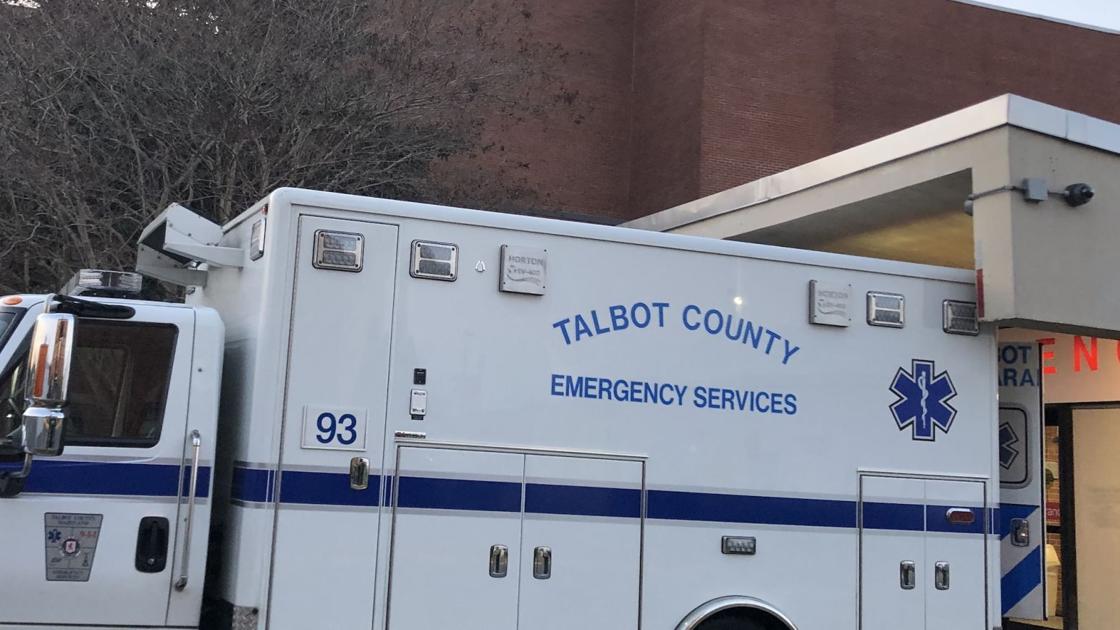 CAMBRIDGE – Dorchester County Council discussed ongoing ambulance staffing shortages during their meeting in Cambridge on Tuesday March 16.
The discussion took place when the Council received the updated policy on ambulance transfers for review.
The transfer policy is set by the EMS division of the Emergency Services Department and governs how ambulance units should be positioned in centrally located areas to cover the county when units are employed elsewhere in the county.
The circular flow has five paid medical units (two in Cambridge, one in Hurlock, one in Eldorado, and one in Madison) and six volunteer units. In June 2020 the council approved a third unit to cover the busy weekday shift in Cambridge.
Council Chairman Jay Newcomb said the policy had been submitted to the Council for transparency.
Councilor Ricky Travers pointed out that the city council is adding an extra ambulance to Cambridge during the daytime on weekdays to reduce the need for transfers. "To date, this third unit has not been commissioned. Can someone tell me why?" Asked Travers.
"We don't have enough staff," Newcomb replied.
Newcomb said the shortage was recently brought up at a meeting of the (volunteer fire) chiefs committee. "They said they could find some people willing to come to work," Newcomb said.
"If we try so hard to get this going as we do with some other things, we may be in pretty good shape," said Travers.
"I agree, we'll try," Newcomb replied.
Councilor Lenny Pfeffer asked about the methods used by the county's staff to try to recruit staff for the additional unit, and Newcomb said deficiencies in staffing existing units had hampered recruiting efforts.
Councilor Libby Nagel said an online poll indicated a lack of interest in working on the additional unit due to other commitments.
Travers asked about the status of the equipment for the third unit for Cambridge, and Newcomb said it wasn't ready.
"If it was approved in June … I want to know why they are down with the unit (ambulance) and are working on the cast," Travers said. "I have a feeling that the EMS side has been fighting them all along."
"With all due respect, this is not a fair statement," said Troi Lynn Faith, administrative assistant for the emergency services. "EMS cares deeply about the Count's citizens and visitors, and it is our priority to give these citizens and visitors the greatest possible care."
"Is the device ready for use?" Asked Travers.
"It's not ready to go," Faith replied.
Ambulance director Dozia Rahilly blamed ongoing maintenance issues with several county ambulances for the delay in getting a vehicle ready for a third unit in Cambridge. "You can have people, but if you don't have an ambulance to put them on …"
"We basically have to deal with the situation that has been handed over to us," Rahilly said.
"The reality is you don't have enough staff to support a sixth unit," said Faith, referring to the response to the internal online survey of people willing to fill the unit. "There weren't enough answers to support the need."
"Would we like it? Absolutely. Do we have the resources to get it right? No we don't. And EMS does not want to have an egg on its face and want to put a unit into operation if this will have a positive impact on the county. That's not how it works. You only implement something when it has a positive effect. You don't make it halfway, excuse my language. And I feel like we're being forced to do this for political reasons, "Faith said.
"We don't have the money right now, we don't have the staff," agreed Nagel. "Better if you don't get something up and running, if you have to run it for a day or two and then have to pull it, and if you can't occupy it for two or three weeks – that will only upset the county taxpayers . "
"By the time we can get the money and the equipment, this (problem) with this ambulance just has to stop. It should never have been voted on when we did in June and I voted for it. That was a mistake on my part because we just don't have the money, we don't have the people, "concluded Nagel.
Travers reiterated that the money had been budgeted when the council added the unit in June.
Newcomb asked rescue workers about the cost of preparing the ambulance for the additional unit and what help could be expected from the volunteer fire service companies.
"We already have five volunteer units," said Faith, encouraging those interested to serve in those units as well.
During the Tuesday evening meeting, an ambulance unit from Talbot County reportedly answered a call in Cambridge, and on Saturday evening March 20, a Talbot ambulance was seen in town heading east to Shore Regional Health Hospital in Cambridge. Contributions from Cambridge's Rescue Fire The company requested assistance in staffing a volunteer ambulance unit on Monday morning March 22nd and Wednesday March 24th.