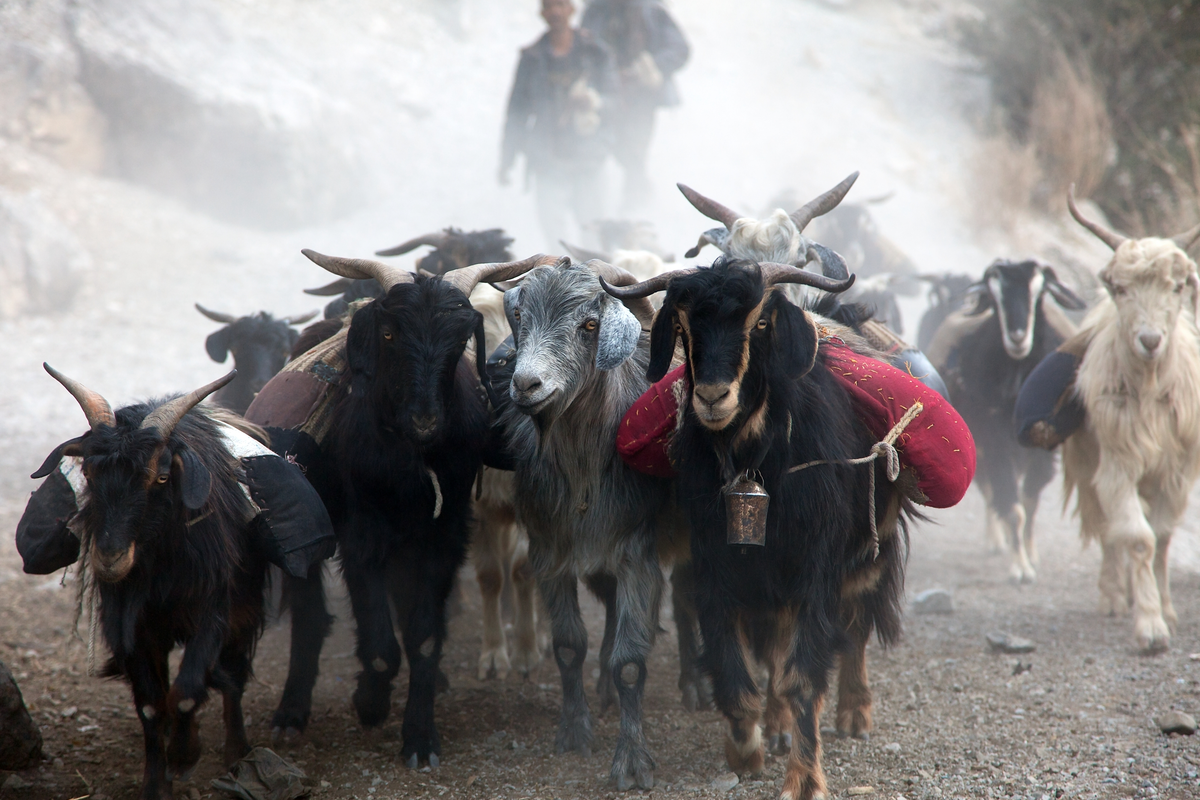 Six years ago, the pig farmer Bhim Luitel started with 27 pigs and an investment of 400,000 rupees. The agro-entrepreneur from Waling, Syangja, now has more than 400 pigs and his farm is worth nearly 50 million rupees. A great success story without a doubt, but at one point Luitel was desperate when his newborn piglets and even those still in the womb began to die from lack of vitamin A and he lost a lot of money. The rescue came in the form of inexpensive vitamin A injections from India, which worked wonders when no veterinarian or technical expert could pinpoint the source of the problem.
Luitel owns a thriving pig farm and slaughterhouse and is one of the many backcountry entrepreneurs who have struggled against great opportunities to get where they are today. He is already thinking of expanding his business to four neighboring districts and exporting pigs to China as well. Its story is representative of mountainous Nepalese agro-entrepreneurs who regularly face difficulties such as securing investments, the lack of a sustainable supply chain ecosystem, and the lack of laboratories, medicines and technical support. Alongside these entrepreneurs, there are also those who show a parasitic attitude and seek subsidies to run their business without considering the options and alternative ways to make their business profitable and sustainable.
Sufferings of entrepreneurs
The existing political loopholes make it difficult for most agricultural entrepreneurs in the hinterland to conduct their business. Rural entrepreneurs do not own property or land with road access that can serve as security. This adds to their suffering as the banks refuse to give them credit. That being said, the unavailability of local junior technical assistants (JTA) exacerbates their problems and entrepreneurs have to go all the way to India to consult entrepreneurs and find solutions.
In the municipality of Waling there are 33 entrepreneurs who raise cows and buffalo, and the milk is only used for consumption. It is unfortunate that there are no industrial facilities nearby where the milk can be processed into cheese, butter, ice cream and other dairy products. They also lack the knowledge about the development of value-added products to take advantage of overproduction. They suffer losses as they are forced to get it from the Tarai due to the unavailability of feed for their local cows and buffalo. The inability of their cattle to produce enough milk due to temperature changes and other climatic conditions makes farmers more disappointing.
Backcountry entrepreneurs also complain about the lack of an organized local market to sell their produce. Usually all kinds of vegetables, meat and poultry are sold in the same market. This is an impractical practice that does not guarantee the safety of their products. The unavailability of collection points for vegetables also makes the market poorly organized. Rough terrain and a lack of logistical support make it difficult to transport the products. Agro-entrepreneurs are also exposed to threats from wild animals damaging their standing crops. Localized efforts to fend off monkeys with pistol shots proved fruitful only temporarily, until they got used to it.
On the lighter side, there are examples of local youth who work in clothing and weaving businesses. Unfortunately, there is no such thing as a supportive ecosystem in which all the backward and forward links are in place. A division that makes sweaters and mufflers using local women has to source the necessary equipment and raw materials such as looms, threads, wool and buttons from Kathmandu. Marketing and branding can undoubtedly be cited as one of the most important things that all entrepreneurs are visibly missing. In order to meet local needs, most farmers keep their agro-operations small. They have no knowledge of the market potential, nor do they know how to gain advantage by expanding it or seeking diversification. You need to be made aware of the branding as fresh organic produce can fetch higher prices.
Entrepreneurs are also complaining about cheap and inferior products from India. Most often, such low-quality, low-cost products are sold at the local "Haat Bazaar". Human resource shortages in rural areas remain a daunting problem as young people go abroad in search of greener pastures than to take up agriculture, which they consider unattractive. After all, information asymmetry problems related to the right market for their products have deterred farmers from producing and selling more.
What's the way out?
Now is the time to invest in technical training to create trained local JTAs instead of spending the occasional money to support entrepreneurs through some local NGOs. Such trained and trained staff would be available to neighborhood farmers whenever they are in trouble and need their services. Subsidies in the form of low-cost forage sold by government offices would benefit farmers. A national entrepreneurship policy that can help farmers identify markets and build external links. Developing the right mindset and attitude among aspiring entrepreneurs is currently a top priority.
Local governments can take on the responsibility of identifying and defining a place for the establishment of local markets that can function in a more organized manner. This also requires better logistics and transportation facilities such as refrigeration centers, laboratories, medicines and ambulances. Creating an entrepreneurial ecosystem requires developing an entrepreneurial mindset as a necessary requirement. This should be taught at the elementary school level by teaching students about local success stories that lead them to view farming as a potential profession.
Breaking the myths and stereotypes that farming is a badly placed job becomes of paramount importance. Students and youth of the modern generation who find no charm in entrepreneurial ventures need to be introduced to the concepts of entrepreneurship in the early days of their training. Incorporating entrepreneurship into the curriculum is a step in the right direction and can set the tone for a professional career. It would be good if policymakers thought in this direction.