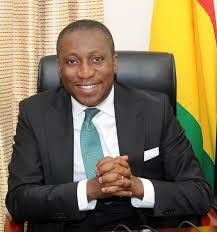 Deputy Majority Leader in Parliament, Alexander Afenyo Markin, calls on Ghanaian youth to become entrepreneurs rather than looking for employment in the public sector.
For him, the guarantee of success lies in building sustainable companies that are able to employ others in order to create sustainable prosperity.
Speaking at an entrepreneurship seminar in Winneba, central region, Afenyo-Markin said that worrying youth unemployment is a threat to national security, but he is also convinced that empowering young people with skills for self-employment is the right way to go.
"Last week I saw the news on TV about the first Accra Jobs and Careers fair hosted by the National Youth Employment Agency. What was striking was the sheer number of fit young men and women who flooded the venue for the two-day event in their desperate search for job opportunities. "
"Weeks earlier, many of us here saw similar scenes on television and in the newspapers of so many thousands of young men and women flooding the Ghanaian army recruitment centers across our country in hopes of an opportunity to join our armed forces. While the above-mentioned scenes show that many of our determined youth long for an honest job in order to become helpful men and women of our society tomorrow, this is a national challenge, "he said.
Although the government has created millions of jobs through initiatives such as Planting for Food and Jobs and others, the answer to staggering youth unemployment is not public sector recruitment, but a rethink.
"The other side of the above-mentioned scenes is that the mindset of many of our youngsters is to seek employment in government agencies and receive monthly salaries instead of daring to be entrepreneurs, to build sustainable businesses themselves, to employ others, and do so to create sustainable prosperity. " . If you are one of those people then I stand in front of you today to tell you that you need a new way of thinking! This new way of thinking must be ingrained in entrepreneurship. "" You must have an insatiable appetite for it. It has to get you to become a millionaire or billionaire tomorrow through critical thinking, risk taking, hard work and innovation, "he said.
Mr. Afenyo-Markin also tasked the youths with developing the art of hard work, risk-taking, critical thinking and innovation to help them become self-employed.
According to him, since his appointment as Effutu MP, he has supported 5,000 individuals with seed capital of 1,000 cedis on promising projects in the constituency. In his opinion, the projects create new businesses and help expand existing ones.
"In doing so, we create prosperity, reduce poverty, create sustainable jobs and, above all, we develop the next generation of intelligent business people. I do all of this knowing that one of the most notorious problems hindering the entrepreneurship of many talented people in our country is lack of access to capital, "he added.
He expressed optimism that with courageous steps, the right attitude and financial support, the Ghanaian youth can rise to the heights that global entrepreneurship giants have reached.