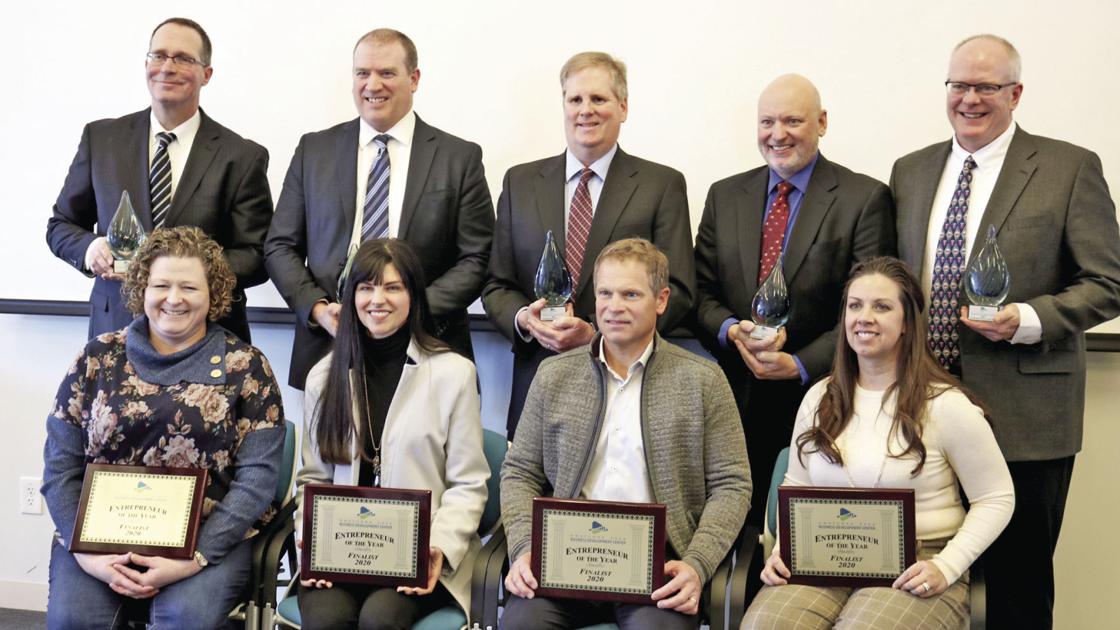 After a successful opening event in 2020, National Entrepreneurship Week will again be in the spotlight next week in Owatonna, celebrating the icons of past and present in Steele County's business community.
"National Entrepreneurship Week is the perfect time to celebrate the many innovators who have called Steele County home," said Bill Owns, executive director of the Owatonna Area Business Development Center, which will lead the upcoming celebrations starting Monday. "Our plan, both this year and in the future, is to recognize the accomplishments of entrepreneurs, past and present, while increasing awareness of the many tools we have at our disposal to support current and future entrepreneurs . "
As with last year's opening event, five more influential business figures in the area will be inducted into the Steele County Entrepreneurs Hall of Fame. New additions to 2020 include the Gandrud family of the Gandy Company, the Kaplan family of the Owatonna Tool Company, Otto Josten von Jostens, Carol Nelson of National Hydro-Ax and Cybex International, and the Lange family of Owatonna Canning Company and Festal Farms.
The new class will be joined by Bob Ayers with FoamCraft Packaging, Inc., CI Buxton from Federated Insurance, James Martineau from Viracon, Tom Peterson from Climate by Design International and Harry Wenger from Wenger Corporation in the Hall of Fame.
An entrepreneur of the year is also named for the second time.
This year's finalists are Scott Limberg from Limberg Productions, Dan Kubista from Wagner's Lunch, Scott and Jolayne Mohs from Mohs Construction, Scott Hagland from Straight River Coffee and Foremost Brewing Cooperative.
With the ongoing COVID-19 pandemic, the second celebration of Entrepreneurship Week in Owatonna will look a little different than the first year. Specifically, the banquet, which honors the newly elected Steele County Entrepreneurs Hall of Fame candidates and announces the 2020 Entrepreneur of the Year winner, will be postponed until people can safely gather again. There is currently no tentative date.
Starting Monday, video interviews with the second grade Hall of Fame candidates will air, as well as videos with other local entrepreneurs telling stories about the history of innovation in Steele County.
The focus will shift to today's Wednesday and include a marketing contest among local students. The teams each presented 15-minute videos with marketing ideas for existing companies. The winning teams will receive cash prizes with which they can continue their education or set up or expand their own company.
The week ends with a panel discussion and a closer look at the finalist for Entrepreneur of the Year.
All videos can be found on Owatonna Live, on local public channels, and on Facebook.
Although ES Gandrud owned about 80 patents, it was his invention of the Gandy wheel that put the Gandy Company on the map. Using two pairs of pliers and a coil, the resulting wireframe model developed into a stick measuring wheel that allowed one person to measure acres exactly where two were previously needed. The Gandy Wheel, approved by the Agriculture Adaptation Agency in 1936, immediately saw high demand for measuring arable land and qualifying for agricultural programs.
Gandrud brought his company to Owatonna in 1937, starting in a garage on Mill Street before moving to a basement near the back of what is now Wells Fargo Bank, downtown. The company eventually moved in 1945 to build a factory on the east side of Main Street to make fertilizer spreaders for the military.
In 1980, Gandrud received the University of Minnesota Outstanding Achievement Awards and was inducted into the Minnesota Inventors Hall of Fame in 1984.
The Gandy Company is now located on Rice Lake Road in Owatonna and is still family owned.
The foundation for the success of the Owatonna Tool Company was created by a simple but effective gear extractor patented by Reuben Kaplan and referred to as the "Grip-O-Matic". By 1934 the company sold a variety of mechanic tools to farmers and gas stations. As World War II began to hit the United States, the Owatonna-based company sold large quantities of tools to both the Army and the Navy.
In 1953, RW "Buzz" Kaplan began looking for new products for the company while another company turned to them to manufacture window awning hardware. Instead of just producing the hardware, the company's engineers redesigned the device and created the patented cam lock operator.
Today Owatonna Tool Company – or OTC Tools – is a global supplier of electronic vehicle diagnostic tools, fuel system service tools, specialty service tools, general purpose tools, pullers, heavy duty tools, workshop equipment and hydraulic components.
Founded in 1900 by Otto Josten, which began as a watch repair company, it has become a household name for every American family whose child goes to high school. The Josten Manufacturing Company first made school needles, but early on when Josten saw the growing trend in the country for students requesting rings designed specifically for their senior class, Josten started.
Josten founded the American Yearbook Company in 1950 and later merged them under the Jostens brand. For over 100 years, the company has been the pre-eminent supplier of class rings, yearbooks, graduation products and photographic services to schools across North America.
Jostens is also the main supplier of Super Bowl rings.
Carol Nelson has always been keen on starting her own business and has started several.
His company National Tree Expert hired utility companies to release new and existing rights of way. When the machines weren't fast enough, Nelson decided to find a more efficient way to get the job done. The single brush mower attachment and brush cutter head developed by Nelson are still in use today.
Nelson is known as one of Owatonna's true entrepreneurs. When he wasn't building a line of forestry products, he invested in two brothers dream to create a new line of exercise equipment – what would later be known as Cybex.
In 1911 LC Lange bought a canned pea factory in Owatonna. This first purchase marked the start of what was known as the Owatonna Canning Company and the Lange family's philanthropic dynasty. Developing new ways of making fresh, healthy and local products has always been part of the family tradition. In one year, the company processed crops grown in approximately 200 acres.
About a decade later, the organization was founded and became famous for the highly acclaimed Festal Pumpkin – the gold standard for pumpkin pie during the holidays.
In 1997 the Owatonna Canning Company was bought by Chiquita Brands International, later taken over by Seneca Foods and later again by Lakeside Foods, Inc. The Lange family remains an important part of the business acres of farmland leased to Lakeside Foods through ownership of the Festal Farm Company, which consists of 7,500.
You can reach reporter Annie Granlund at 507-444-2378 or follow her on Twitter @OPPAnnie. © Copyright 2021 APG Media of Southern Minnesota.