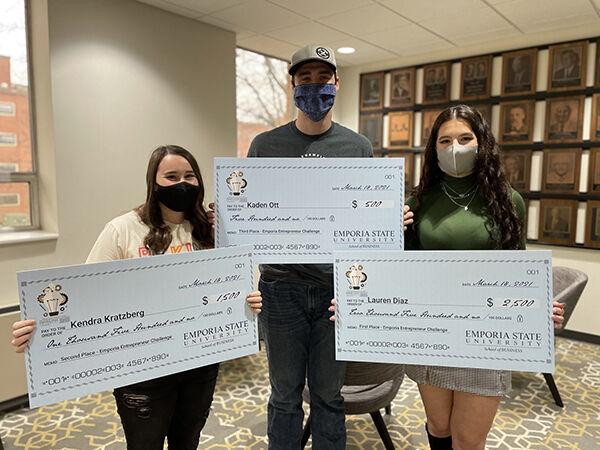 An Emporia state business administration student recently took third place in the Kansas Entrepreneurship Challenge. Kendra Kratzberg, a New Strawn senior, earned $ 1,500 for her ShowUP idea.
Their summary explains their venture idea: "The number of children in foster families continues to grow at an alarming rate, which completely overwhelms the system. The bottom line is that our children's needs are not adequately catered for and our foster parents are not adequately supported. ShowUP is application software designed to help solve these problems by enabling each caregiver in a foster child's life to work together effectively and communicate the child's needs by looking at the child's behavior, triggers, and progress during Easily tracked caregiving This software would provide foster parents with an extra level of support, collaboration and documentation while helping to identify and nurture children's needs.
Kratzberg says the project was a good challenge for her.
"I love that this challenge has got me out of my comfort zone and brought me to a place that has opened up new opportunities and a passion that I would not have gained without it. I was challenged, humbled and grateful for the experience and everything I continue to learn, "said Kratzberg.
To qualify for the Kansas State University virtual state competition, Kratzberg took second place in the Emporia Entrepreneur Challenge on March 18 and received $ 1,500. The Emporia Entrepreneur Challenge is a venture ideas competition open to all students at Emporia State University and Flint Hills Technical College.
For the first round of the competition, 37 individuals or teams submitted a three-page summary on February 19. Teams were judged on business model, product / service offering, feasibility, justification, specificity, and originality.
By February 26, a panel of judges selected 15 semi-final teams to advance to the next round of the competition. During this semifinal round, students had two weeks to redefine their big ideas based on feedback from the classifiers, and students worked with faculties to further develop their concept.
This competition round consisted of these 15 best teams who submitted virtual oral pitches to a new jury by March 11th. The first three winners were announced on March 18th. Three teams presented their video pitches to company representatives in the region in order to receive constructive feedback and questions to improve their project idea. Many thanks to Jeanine McKenna, President and CEO of the Emporia Chamber of Commerce; Kent Heermann, President, Emporia Regional Development Association of East Central Kansas; Brad Kraft, President and CEO, Hopkins; and Brandon Khan, Vice President of Commercial Lending, Lyon County State Bank, for helping these teams with ideas in their quest for state placement.
Lauren Diaz, a senior accounting and management major from Rose Hill, also attended the state event. Diaz won the local EEC and $ 2,500 for their "SnoGo" idea.
In their summary it says, "The Midwest experiences the best and worst of all seasons and we do our best to make sure our furry companions brave the elements that happen. What about the dogs that just can't walk in the snow? That's why you need an outdoor SnoGo. The SnoGo is a heated grass potty pad that should be left outside to provide a warm, snow-free space so that your puppy can stay outside even in the snow. Nobody wants their dogs to be uncomfortable, but you also don't want to use traditional lawn pots. that allow your dog to be comfortable indoors and potty training creating a nightmare. The outdoor SnoGo is durable and waterproof so it can be outside during the winter months so your puppy can exercise comfortably and on the potty during those snowy and cold winter days. "
Kaden Ott, a second year business student from Lebo, took third place and $ 500 in the EEC with his idea of ​​"Turn Tire".
As he summarized, "The purpose of forming Turn Tires is to use thousands of scrap tires that are thrown away every year. In the Emporia region alone there are over 27,000 vehicles, of which more used tires are produced every year. Turn Tires is a company that not only collects used tires from the area, but also uses these tires for new purposes. "
Dr. Douglass Smith was the chairman of the Entrepreneur Challenge Committee.
"Being the adaptive university is not just a nice phrase, it's a way of life for our community," said Smith. "We are blessed to have students who embrace and embody adaptability. In this year's Entrepreneurial Challenge, our students adapted to our new normal and embraced the opportunity to innovate with their entrepreneurial plans. And thanks to the generosity of Steve and." Bobbi Sauder, we can use our new space, the Bobbi & Steve Sauder Center for Entrepreneurial Development, to develop and grow the next generation of entrepreneurs. "
The EEC committee included Dr. Douglass Smith, ESU-EEC director; Dr. Jeff Muldoon, ESU; Dr. Sheryl Lidzy, ESU; Dr. Carol Lucy, ESU; Beth Ginter, ESU; and Kim Dhority, Flint Hills Technical College.
A big thank you to these judges who donated their time:
Executive summary evaluator: Dr. Marian Riedy and Dr. Will Senn, School of Business; and Lori Moore, business technology instructor, Flint Hills Technical College.
Oral pitches: Eddie Garcia, entrepreneur, Topeka; Shane Garrison, ESU Alumni, Senior Internal Auditor, Lawrence; Larry Eisenhauer, ESU alumni, former judge of the Iowa Judicial Branch; Cindy Eisenhauer, ESU alumni, former Chief of Staff of the Governor, State of Iowa; Susann Eisenhauer, ESU alumni, Atlanta, GA; Greg Miller, ESU Alumni, Realtor, Kansas City; Chris Omni, Social Prenuer, Florida; and Stephen Witherspoon, entrepreneur, Wichita.
Community showcase: Jeanine McKenna, President and CEO, Emporia Area Chamber of Commerce; Brandon Khan, VP of Commercial Lending at LCSB and Kent Heermann, President of the Regional Development Association.
To view the best oral pitches: https://www.hornet.digital/eec2021
To find out more about the EEC: https://www.emporia.edu/school-business/centers-resources/resources/emporia-entrepreneur-challenge/
The elevator challenge
In addition to the EEC, 33 individuals / teams took part in the Elevator Challenge on February 11th, where they presented a 27-second live pitch on Zoom. The judges for this year's virtual competition were Lisa Brumbaugh, Kansas Small Business Development Center at ESU; and Carissa McAfee, ESU School of Business Graduate Advisor and former EEC winner.
The following Elevator Challenge winners received $ 100 each:
Best idea: Payton Marshall, newcomer undecided major, with "Mask-lace", an adjustable, lightweight face mask that can either be transformed into a fashionable necklace, bracelet or even a hair tie.
Best pitch: Kendra Kratzberg, Senior Business Administration Major, with "Show Up".
Jury selection: Hana Risley, Senior Communication Major, with "Bake & Take", a mobile dessert food truck / trailer for the community and special events across Emporia.