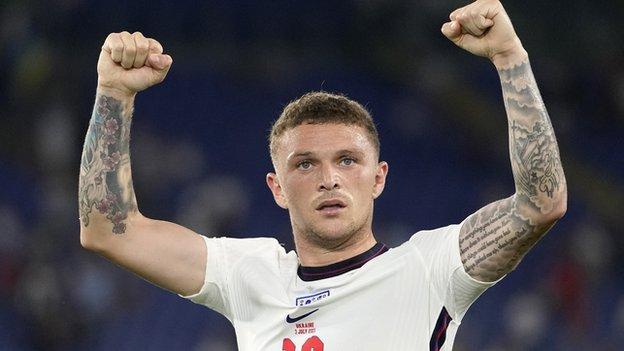 England have a "very special opportunity" in the semi-finals – Southgate
England have a "very special opportunity" to make the country happy when they play Denmark in the semi-finals of Euro 2020, says manager Gareth Southgate.
Now they are returning to Wembley – the place where their last men's semifinals took place 25 years ago.
"England matches bring families and communities together," Southgate said.
Speaking to BBC Sports Editor Dan Roan, he added: "The opportunity to bring luck to our fans, to our nation, and to create brilliant nights is a very special one when you play against England.
"They're games that you remember where you've been, and some of the nicest news you get is that people appreciate what the players have been like – that they feel like they can connect with them – they should be very proud of that. "
With a win on Wednesday, England would reach the final of a major tournament for the first time since winning the 1966 World Cup.
When asked what it would mean for him to make it to the final, Southgate said, "It really means to the country.
"When you're a coach, it's a bit like a parent – you've passed the moment where it's about you and what you pass on to others."
He added that the team's experience of reaching the bottom four of the 2018 World Cup in Russia could help their side move further this time: "We're better prepared for this semi-final as we've lived it before.
"And while this doesn't make or break a football game, there are many factors that we know and have looked at before that will help you prepare better.
"For example, after the game in Rome, the celebrations were at a certain level, while in Russia it probably took a lot of emotional energy to get through to the round of 16 and the quarter-finals.
"Everyone was pretty calm in Rome and we knew we hadn't got what we wanted. So these things prepare you for a big game like this."
Maguire scored England's second goal against Ukraine on Saturday night
"Hurt" can inspire England – Maguire
Three years ago England lost the World Cup semi-finals 2-1 to Croatia in Moscow.
And Manchester United defender Harry Maguire said they need to "make sure" that result is not repeated on Wednesday.
"The motivation is there," said Maguire. "Losing the semi-finals at the World Cup hurt a lot."
Maguire, who has recovered from an ankle injury to start England's last three games, said Southgate's roster has improved significantly since the World Cup.
"I think we are in a much better position than we were," he said.
"We learned from that experience. We had a lot of big games during that time to improve and spent a lot of time together on the training pitch, in friendlies and in qualifying. Every game we play makes us feel like we are " improve.
"In this tournament, from the first game to the game against Ukraine, there are many differences in the principles we demand from each other. Of course we are better positioned now, but we still have a long way to go."
"We want to write our own story" – Trippier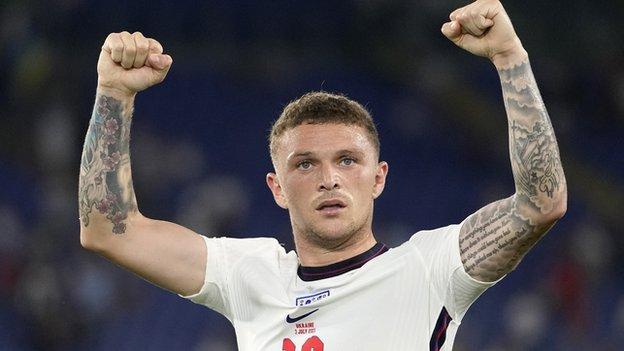 Trippier says the team have "a big task ahead of us against Denmark".
Defender Kieran Trippier, whose free-kick goal gave England fans hope early on in the 2018 World Cup semi-finals, says he has no regrets and is now focused on showing the progress they have made since then.
"We are now in a position where we just want to write our own story. That's all we wanna do.
"We are maybe only six or seven from the World Cup team. We have so many good young talents.
"It's there for everyone to see the attacking players we have. I think we took that step from 2018 onwards."
The Atletico Madrid player said he would not let the opportunity get him down if he faced Denmark on Wednesday night.
"I don't get nervous … I've played a lot of big games now, so when I get to the semi-finals it's just excitement. You see the place, you see the whole nation."
"Everyone is buzzing and it's just good to see smiles on everyone's faces and after a year and a half that we've all had, it's good that they are all smiling again."