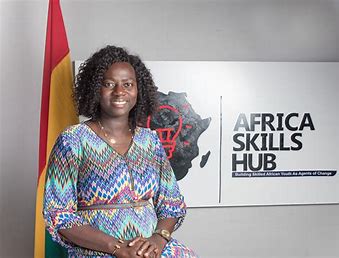 Africa Skills Hub runs the Women's Entrepreneurship and Livelihoods Initiative (WELI) with its partners Canada World Youth and Global Affairs. As part of the learning exchange and advocacy approach in the treatment of women's problems as part of the project, Africa Skills Hub in partnership with the National Entrepreneurship and Innovation Program (NEIP), Social Enterprise Ghana, Scaleup Africa, Social Innovation Africa and Impact Investing Ghana organized on Friday, September 10, 2021 at the Alisa Hotel, Accra.
The published Policy Guide on Gender Mainstreaming For Ghana's Entrepreneurship Ecosystem is geared towards decision making regarding gender issues in the entrepreneurship ecosystem and aims to strengthen gender inclusion in entrepreneurship, which will have a trickle-down effect on resources that can be specifically targeted at women.
The Policy Guide contains significant contributions from ecosystem practitioners and entrepreneurs to perceptions and insights into gender mainstreaming for entrepreneurship, political decision-makers and executives and hopes to support duty-bearers in Ghana and Africa in rethinking their "gender work" and implementing a developed corporate policy, leading Ghana to more inclusive economic development and socio-cultural outcomes.
The guide is primarily intended for partners, coordinators, lawmakers, ministers, leaders and real-life entrepreneurs who are involved in developing and adopting national formation, impact investment, social enterprise and other flagship entrepreneurship policies and laws in Ghana and across Africa. However, it can be useful for any individual or organization interested in learning more about gender mainstreaming and how it can be implemented in project planning, implementation, monitoring and evaluation.
International NGOs (SNV Ghana, WUSC Ghana, Youth Advocates Ghana, Tony Blaire Institute, CAMFED Ghana, GIZ Ghana), local NGOs (NORSAAC Ghana, Gender Center Ghana, Challenges Ghana), civil society organizations, government authorities (NEIP.) part of Ghana, Ghana Enterprise Agency, Youth Employment Agency, COTVET Ghana and the High Commission of Canada in Ghana.