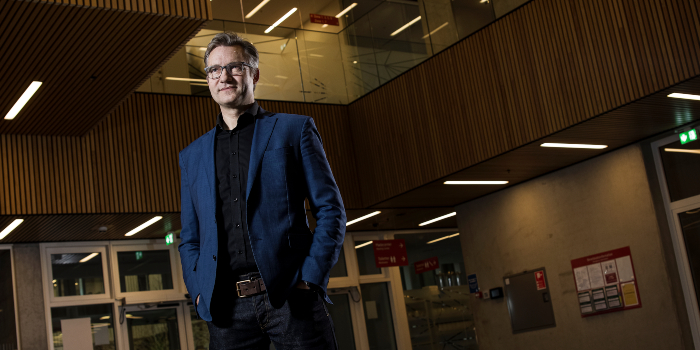 Experienced entrepreneurs start new businesses with researchers from Danish universities as part of an award-winning entrepreneurial project. So far, 26 new companies have been founded.
In a new, nationwide project, experienced business people from the private sector will be brought together with researchers who have the latest knowledge from the universities. The initiative is called "Open Entrepreneurship". It is supported by the Danish Industry Foundation and is based on the collaboration between DTU, Aalborg University, Aarhus University, Copenhagen Business School, ITU, Roskilde University and Copenhagen University, as well as a number of private companies and international partners.
"Researchers are usually not good at business, and business people are generally not good at research. However, the combination of the two groups creates a unique environment for new business, prosperity and innovation. "
Jes Broeng, project manager, open entrepreneurship
The aim of Open Entrepreneurship is to develop and test a new model of collaboration that Danish universities can use to improve the commercialization of research and create more research-based startups.
The model has now been tested in a two-year pilot phase. The result is that 26 new startups have been founded and numerous cooperation projects could develop into even more companies in the coming years. The project won an EU award for promoting entrepreneurship last November.
"We can see that the interaction between business people and researchers increases the number of research-based startups and creates a stronger business foundation compared to traditional university startups. The model therefore seems to have the potential to move Denmark from our current middle position in the international spectrum to a country at the forefront of the commercialization of research, "says Jes Broeng, director of DTU Entrepreneurship and head of the Open Entrepreneurship project .
US experience
He got the idea for the project while staying as a visiting researcher at UC Berkeley, California, where he witnessed the work of the university's Sutardja Center for Entrepreneurship & Technology. He noted how Berkeley brought research, teaching, and entrepreneurship into play in a way that matched his own experience as a professor at DTU Fotonik.
"There is evidence that universities like MIT, Stanford and Berkeley are better than other universities when it comes to innovation and entrepreneurship. The main difference is that they have an ecosystem of entrepreneurs returning to universities and mentoring, teaching and discussing new technological opportunities with researchers, "says Jes Broeng.
His experience from the USA has now flowed into Open Entrepreneurship, which began in 2017. As part of the project, a business unit was set up at each of the seven Danish universities, led by a business unit manager with an entrepreneurial background and insight into the universities' research fields.
The business line managers and researchers jointly identify research with commercial potential. They also assemble teams of researchers and outside entrepreneurs who work together to develop promising ideas for new businesses. The project is led by an 'Open Entrepreneurship Hub' that is part of DTU Entrepreneurship. The hub facilitates collaboration between universities and is responsible for establishing a nationwide corps of entrepreneurs and intrapreneurs (people who start new business areas in existing companies) – an "e-corps". The researchers meet with experienced experts from the E-Corps, but initially have neither clear results nor new technologies. It usually takes a few years before a new startup can be founded.
Early dialogue is crucial
"We can see that early dialogue between business people and researchers is a key factor in the success of Americans in promoting more startup opportunities and setting up businesses than we are. I would say the sooner you start the dialogue, the better you can get a match. There is evidence that entrepreneurs help inspire researchers and identify opportunities that researchers don't see because they usually specialize in niches, "says Jes Broeng.
As an example, he cites the company Norlase – a startup from DTU Fotonik. Seven years ago, this company was part of the DTU "Bridging the Gap" program – a forerunner of Open Entrepreneurship. Norlase initially focused on developing the world's best laser technology that other companies could use in their products. In practice, however, the idea proved difficult. With the help of business people, Norlase switched focus and instead developed a laser-based product that ophthalmologists can use to treat patients. A line of business in which cheaper, sharper lasers are in demand. Norlase recently signed collaborative agreements with a number of European distributors and is now paving the way for agreements in the Middle East and Southeast Asia.
"Researchers are usually not good at business, and business people are generally not good at research. However, the combination of the two groups creates a unique environment for new businesses, prosperity and innovation, "says Jes Broeng.
"I think we sometimes do a disservice to researchers by asking them to commercialize their research. While some researchers manage to do this themselves, there is still great potential if researchers aren't interested in running the business side. "
After a pilot phase at DTU Fotonik, DTU Compute and DTU Space, the project is now being disseminated throughout the DTU and complements the rest of the university's innovation ecosystem.
Faster microchips
Three questions for Kurt Stokbro:
What does SiPhotonIC work with?
"The company is developing optical microchips that use particles of light – photons – instead of electrons to carry the information in a chip. While optical technologies previously required a table with lens assemblies and other components, these configurations can now be built into microchips the size of a pen head. One application is faster and cheaper internet. It is predicted that optical circuits will be of great importance in optical telecommunications, quantum technologies, and biomedical diagnostic devices. "
What does Open Entrepreneurship mean for SiPhotonIC?
"Heads of the Open Entrepreneurship division encouraged Dr. Yunhong Ding to set up a company based on his extensive knowledge of optical microchips. Knowledge that would otherwise have remained an academic project. "
What did the early dialogue mean for the startup?
"This enabled us to discuss at an early stage how the company's business concept can be expanded. We want to go from being a kind of consulting company where each customer gets their own product to a general product business where microchips are made on a large scale. "
—————
Optics for medical devices
Two questions for Sonny Massahi:
What does CHEXS work with?
"Researchers from CHEXS (Center for High Energy X-ray Systems) use a reflective technology that was developed at the DTU Space. While DTU Space uses the technology to make detailed observations of space objects that emit energetic forms of electromagnetic radiation, CHEXS uses this technology to develop optics for medical devices that use X-rays or gamma rays. This leads to a higher resolution and less radiation. "
What did the early dialogue mean for the startup?
"Open Entrepreneurship helped us set up a startup company, helped us get in touch with prospects, and helped us create a solid business plan."