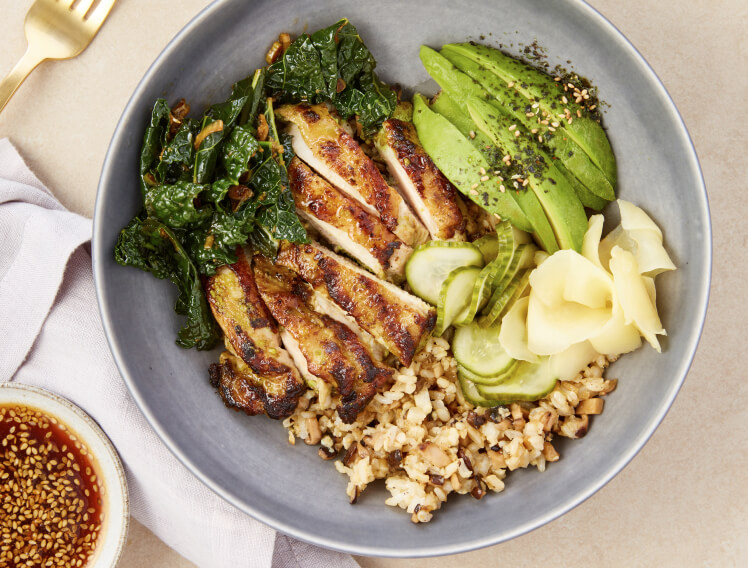 Our first Goop Kitchen delivery location is now distributing lunch and dinner around the west side of Los Angeles. It's also open for pickup orders – and the Curry Chicken Salad Summer Rolls and Coco Chocolate Chip Cookies are well worth driving around town. But let's rewind. When we decided to venture into the dining room with goop Kitchen, we knew we needed someone with something very special on top. Someone who had serious skills, who were in tune with our core values, and most importantly, understood that for wellbeing, eating is as much about pleasure as it is health. We were fortunate to find all of that and more in Chef Kim Floresca.
She had an impressive and enviable career, working in top restaurants around the world including El Bulli, Per Se and The Restaurant at Meadowood. She knows how to run a restaurant – she and her husband opened and ran a restaurant in Chapel Hill, North Carolina for three years before returning to California.
Her interest in food was aroused at a young age. "I was a military kid and we traveled a ton," she says. "I lived in Germany for four years and was so excited to experience this meal. My parents always took me to markets to try the local dishes in Germany and surrounding countries like France. "And then Floresca had a particularly memorable meal:" A relative made me the worst dinner I've ever had. I wondered why anyone would want to eat something like this. "That experience served as a lesson not to be done. Floresca first learned to cook through the Food Network ("It showed me that food prepared at home can be really tasty," she says) and then in cooking school. She used family dinners on Thursday evenings to try new recipes. "Some were great successes, others were complete failures. Fortunately, none of them were as bad as that first meal, "she laughs.
When we first started working with Floresca on the Goop Kitchen menu, we saw how and why her career was shaped by her curiosity: making healthy food taste amazing is not always an easy task, and she is approaching that sort of thing Problem solving real creativity. And their food tastes amazing. She is a self-proclaimed perfectionist – she tweaks, refines, and tries to make things better. But what makes her loved is her generous collaborative spirit, which shines at every stage of the process from research and development to training and maintaining the team culture.
Kim Floresca answers the Goop Food Survey
What's your favorite item on the Goop Kitchen menu?
It's our teriyaki bowl. We worked so hard on this sauce trying to get the proportions right without using refined cane sugar. It is very good.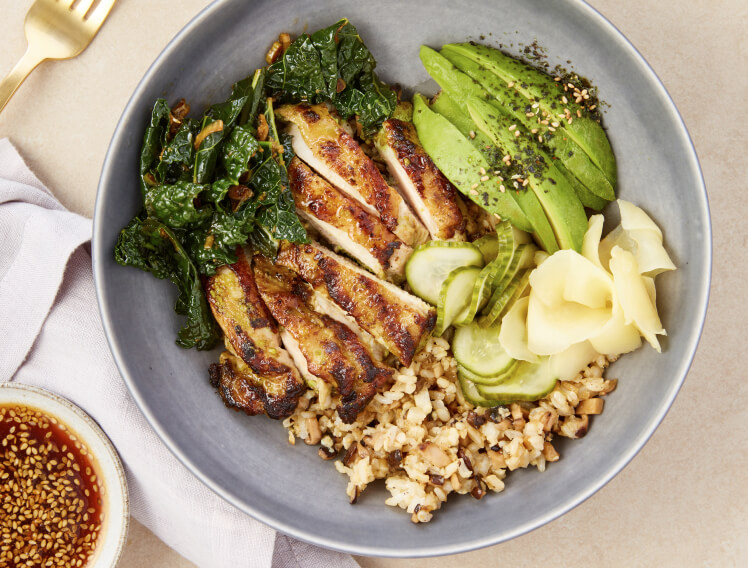 Tell us about the first recipe you ever mastered.
Chocolate cake. I think I was eleven. It was the recipe on the side of the Hershey's cocoa powder tin. I remember not wanting to use oil so I used applesauce and thought it was best. I don't know that that's what I'd be thinking now, but it's definitely one of my favorite food memories.
Your most commonly used ingredient?
Green onions. For some reason I love her in everything. Charred. Raw. They give you a fresh bite of onion without being too spicy.
Do you have any aversions to food?
I don't like turnips. I think it's a childhood thing, maybe I've had bad experiences with them. I mean, I'll eat them, but I would prefer not to. I love to cook them!
GOOP PICKS
What do you think of when someone says "Comfort Food"?
I have too many to list. But I love a good pot of rice with this sauce called Finadene – it's a Guaman thing. It's lemon juice, soy sauce, chopped green onions, and a bit of chili from a bird's eye view. This sauce on rice is a really good dish for children.
Is there anything that you are fed up with?
I do not believe that. I just have this restless perfectionism. I try to do better and better every day and my mind won't let me calm down. Even though we have a great teriyaki recipe that I've worked on probably hundreds of times, I keep asking myself: how can I make it better? How can I make it more interesting? Can it be a basis for something new? I don't see it as tired of doing something. There is more to learn every time you make it.
What kitchen utensils should every home cook have?
A great chef's knife. A good set of pans. I'm not just saying this, I really like the goop x GreenPan set. My mom even saw my set and bought it too! Additionally, build a good pantry with basics. Make sure you have great olive oil that you love, good salt, and different seasonings that you like.
GOOP PICKS
What do you hear while you cook?
Queen in preparation. We love queen. And the killers when we run after us and need a second wind.
Favorite cookbook?
Jeremy Fox's On Vegetables is one of my favorites. It's accessible, but also very advanced. He is one of my idols. Again, not only to say that, but GP's books are amazing too. I cooked from them for many years. You have always been a great inspiration for clean eating.
What are five things you always have in your fridge?
1. A jar of pickles. It can be pickled vegetables or just dill pickles – these are my favorites.

2. A glass of really good French Dijon mustard.

3. I usually have homemade oat milk. I roast the oats beforehand and add cocoa to the mixture and use it in my morning coffee. It's a bit of work, but it's pretty easy and the result is so luxurious.

4. Date and Nut Truffles to curb my sweet tooth.

5. Rice leftovers for the preparation of soup or fried rice or for the already mentioned Finadene sauce. I'll even turn it into a dessert with some coconut milk for a quick rice pudding.