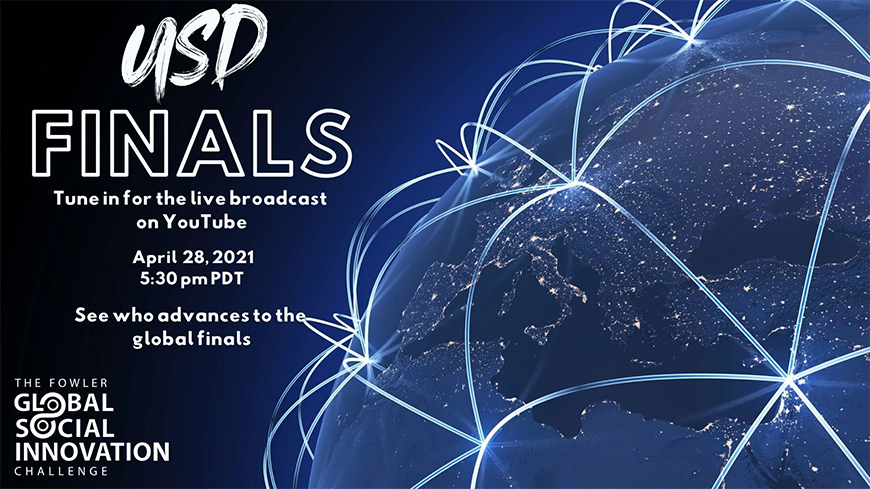 Each year, the University of San Diego's Closing Event for the Fowler Global Social Innovation Challenge (GSIC) brings together student thought leaders from across campus to find bold solutions to big ideas. On April 28th at 5.30pm, 15 student teams will share their innovations for world-changing ideas.
This year's virtual event, hosted by the Center for Peace and Trade, will be streamed live on YouTube and will include pitches from the teams each with innovative proposals addressing one or more of the United Nations Sustainable Development Goals.
For many teams this is the first time they have participated in this annual event, which is taking place for the tenth time. Project proposals range from cleantech-inspired ideas like recycling wind turbine blades to mediating and preventing conflict through the arts.
The 15 teams will compete for $ 15,000 in seed capital, with the top two USD teams reaching the Fowler GSIC Global Finals on June 12th. The global finals, a partnership between USD and the University of St. Thomas, will be hosted this year as a hybrid event by the University of St. Thomas. Over the past decade, Fowler GSIC has distributed more than $ 370.00 to global corporations with more than 900 participating teams and 35 participating universities.
Click here to register for the USD Finals.
Click here to learn more about the Fowler GSIC.
– Allyson Meyer '16 (BA), '21 (MBA)