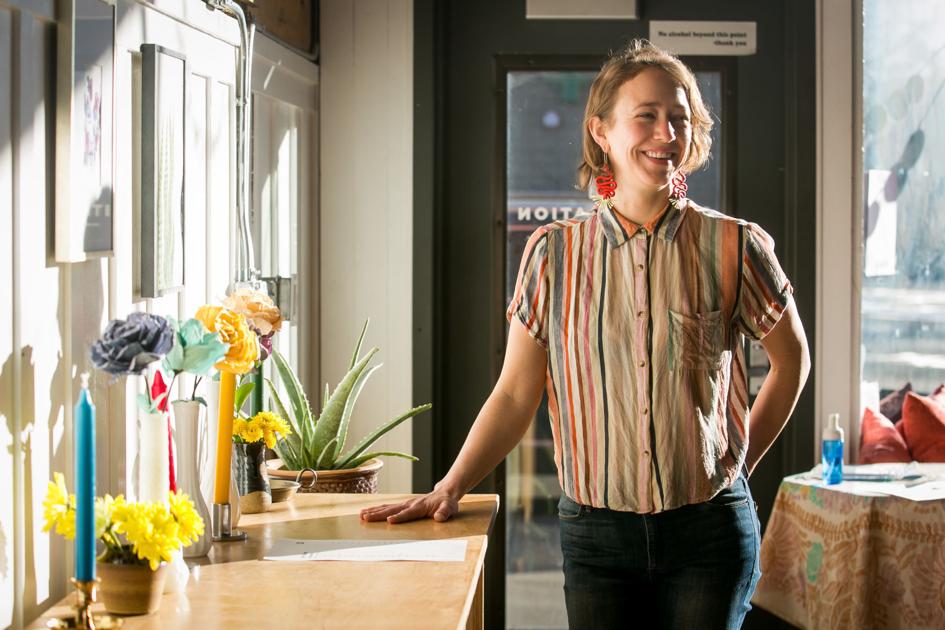 Maddie Hicks didn't have a big plan when she moved to Yakima 10 years ago.
Little did she know she was going to become a business owner, community activist, and key facilitator of the arts scene in downtown Yakima. All she knew was that she preferred Yakima over Killeen, Texas, which was the other available option for Hicks and her then-fiancé. They came back to the US from Seoul, where they met – he was in the military, she taught English – and Yakima sounded okay.
"I remember reading the Wikipedia page and it said that Yakima grows every percentage of the world's hops and every percentage of the country's grapes," she said. "And I said, 'It'll be fine.'"
The relationship never made it to the altar, but Hicks stuck with it. Yakima felt good for her. She met and married a local, Joshua Hicks. They had two children, Milo, 7 and Forrest, 4. In 2017 they opened a coffee roasting business with Basalt Roasters, in which the Buhrmaster baking system was used to roast beans with an origin.
"Really, Basalt began by seeing a hole in the market and combining work and family," said Maddie Hicks. "I remember Forrest sitting in his car seat and watching me roast a pound of coffee at a time."
The next year Basalt had added a third partner, Adam Wilson, and had moved into their own building. In 2019, in the gallery half of the Yakima Maker Space building, Hicks and Wilson opened Collaboration Coffee, a coffee shop that sells gourmet basalt bean coffee. Meanwhile, Hicks' marriage was falling apart. This period of "painful growth," as she put it, was crucial.
"Divorce is part of this whole story and I become the person I am," she said. "This is how Collab came about."
Collab, as its regulars call the store, flourished in 2019 and became a popular spot among Yakima's coffee and art sets. Live music, art openings, community meetings, and charitable presentations were all hosted, often with a message of social justice. And while it didn't look exactly what she'd imagined when Basalt started, it was still a mix of work and family; Her children were there practically every day and saw their mother like never before.
"I think it's important for them that I do something that really fulfills me, not just as their mother or someone's spouse, but for myself as well," Hicks said.
The COVID-19 pandemic has, of course, stopped some of this dynamic. But Collab, which Hicks is currently sole owner of, has remained open under government restrictions and has continued to serve the dual purpose of being a vital Yakima gallery space. When it's safe again, Hicks expects to revive his role in promoting live music and advocating social justice.
None of this was on the 10-year plan when she moved to Yakima. That's because there wasn't a 10-year plan. Hicks was "too impulsive and short-sighted" to make one, she said. So she just took each situation and decided what was best for her. That came with a number of risks and more than a little pain, but it also got her where she is. And she likes where she is.
"I've never really seen myself as a risk taker," said Hicks. "Over the past few years I've found that this is an integral part of who I am."
Job: Co-owner of Basalt Roasters and Collaboration Coffee.