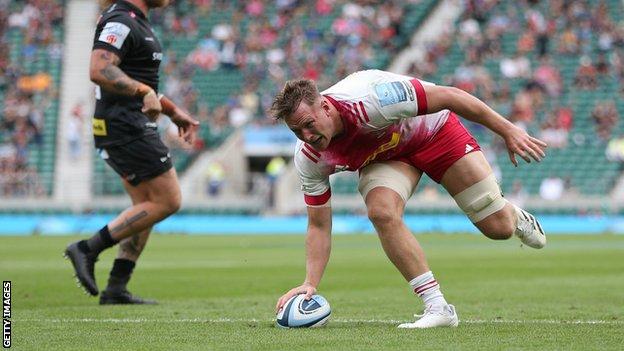 Louis Lynagh's two attempts earned Quins its first title since 2012
Exeter: (14) 38
Tries:
Gray, Hepburn, S Simmonds, Devoto, Hogg
Disadvantage:
J Simmonds 5
Pencils:
J Simmonds
Harlequins: (19) 40
Tries:
Penalty, Louw, Dombrandt, Esterhuizen, Lynagh 2
Disadvantage:
Blacksmith 4
Louis Lynagh's two late attempts resulted in the Harlequins winning their first Premiership title in nine years when they beat Exeter 40-38 in a thrilling final.
Former Australian captain Michael Lynagh's son plunged into a game that changed the lead five times with seven minutes left.
Quins was five points behind Lynagh's first attempt in the 73rd minute.
He got a second three minutes later to seal the win before Stuart Hogg withdrew a try for Exeter after death.
After Quins returned from 28-0 deficit to beat the Premier League leaders in overtime in last week's semi-finals, Quins impressed as they held the reigning champions back for much of the game and a famous chapter in history of the London Club wrote.
Exeter, who has made the last six finals, lost for the fourth time at Twickenham after being beaten by Saracens in 2016, 2018 and 2019.
Harlequins fight into stoppage time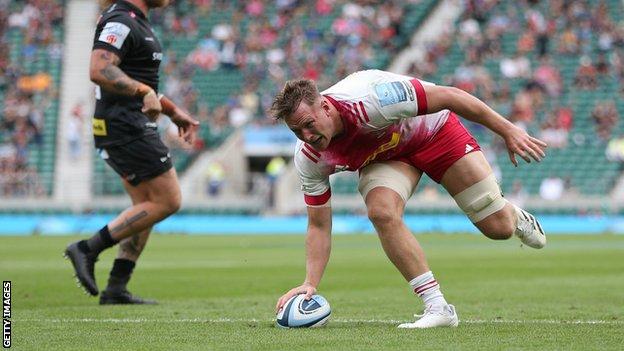 Alex Dombrandt's attempt in stoppage time in the first half was typical of the Harlequins' demeanor
Quins got off to the best possible start – Marcus Smith's corner kick after a penalty in the fourth minute was centimeter accurate and from the resulting five-meter line-out they fought their way towards the line. Exeter's UK and Irish Lions ban, Jonny Hill, illegally pulled it down and referee Matthew Carley tried a penalty and sent Hill to the sin box.
But even though Exeter was a man, he was beginning to assert her control.
Tom O'Flaherty, Sam Simmonds, and Alex Cuthbert all had dangerous breaks, and by 15 men they made their move – a couple of tap-and-go penalties near the Quins Line eventually resulted in Scotland's lock Jonny Gray making his way in the 20th minute.
A second attempt followed 10 minutes later for Alec Hepburn on a similar route, with Smith being banished to sin after repeated offenses when Exeter crossed over.
But then it was Quins' turn to take command while they dominated the hustle and bustle, giving Exeter a taste of their own medicine while forcing the Chiefs into long defenses on their own line.
It paid off when Wilco Louw came into play from close range with three minutes left before Alex Dombrandt cut an excellent post-game line from the back of a rucksack under Exeter's post and held onto Smith's pass to give the Londoners a deserved lead .
Lynagh magic secures historic victory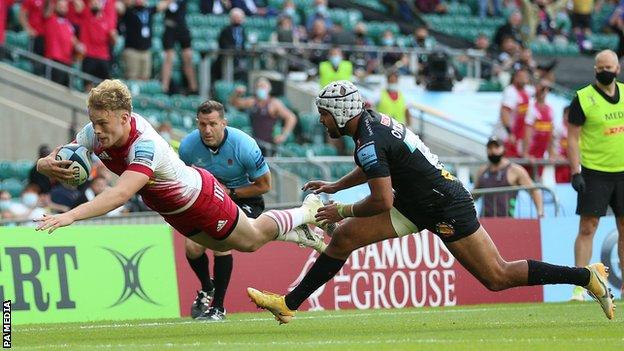 Louis Lynagh, 20, made his Premier League debut on the last day of last season
Quins fired after the break and Andre Esterhuizen ended a flowing pass in the left corner after Smith's long pass created an overlap.
But that upside-down finale turned again when the Chiefs scored twice in the next 10 minutes.
Sam Simmonds went up close on his 21st Premiership attempt of the season before Devoto slipped past after seeing Luke Cowan-Dickie and Joe Simmonds break the Quins line 40 yards away.
Cowan-Dickie was eliminated with 20 minutes remaining after knocking his head and knee unconscious in a tackle before Simmonds scored a simple penalty to increase the gap to five points with 15 minutes remaining.
But with Exeter looking like they would hold the title for the first time in their history, Harlequins once again showed their never-say-die stance as they penetrated deep into the Exeter area before Smith's lovely delayed pass Lynagh on the right Sent wings.
Smith made room again three minutes later and made his way across the line of scrimmage to allow Lynagh to make his second flank, which was a consolation for Hogg's late result.
Heavenly faith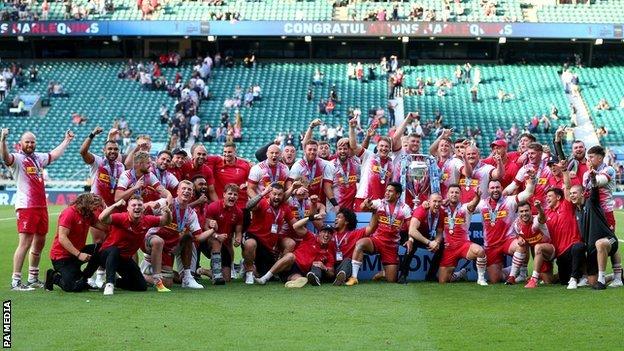 Harlequins won the title due to Covid-19 restrictions in Twickenham in front of just 10,000 people
The Harlequins' path to the final was bumpy – they had only won two league wins under former coach Paul Gustard when he left in January.
The club was in seventh place and things weren't going well in the camp – General Manager Billy Millard became the focus of the team and fellow coaching Jerry Flannery, Nick Evans and Adam Jones performed.
"The belief in our squad is sky high," said Quins number eight Alex Dombrandt.
"From the outside, a lot of people doubted us and didn't give us a chance, but I think that woke this group up.
"We have a lot of strong characters, a lot of great leaders in our group and that belief has always been there."
For Millard, who brought the group together and saw the club win eleven of the next 16 league games to secure a place in the top four, he was proud of his team:
"I thought some of our plans worked out well, a good part of our crush prevailed," he said.
"But fair play to Exeter, they went to the end and I can't be prouder and admire the guys, the admiration is huge.
"They were tired, last week cost us a little and we only did a little this week, but they dug deep so I'm extremely proud."
Losses can take Exeter "to the next level" – Baxter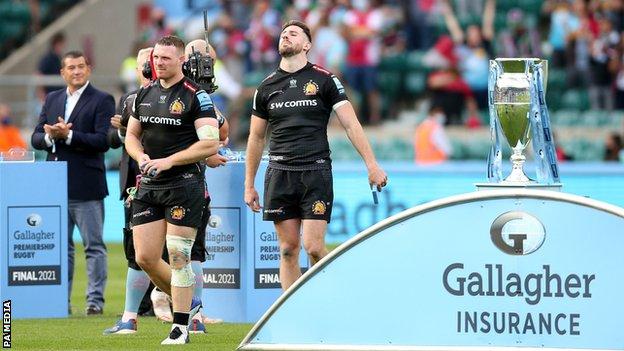 Sam Simmonds (left) has scored more attempts than any other player in a single season in the history of the Premiership season in this campaign
For Exeter, who won a historic national and European double last season, it was Twickenham's fourth heartbreak in six seasons.
The favorites that go into the game never got their strong game going against an inspired Quins side.
But for Exeter rugby director Rob Baxter, that loss could mark a turning point in that team's development:
"There is nothing dramatic about us, we came up a little short in the last few minutes of the last game of the season," he said.
"The challenge is how to stay a good team, not overreacting to lose today, and make sure we are honest with the things we have to deal with.
"I actually think that today is one of those lessons that can potentially take us to the next level because we've all learned a tough lesson in the past few weeks.
"We still have a lot of players young enough to be in several more finals and I hope that this really valuable lesson takes you a little further today."
Exeter: Not good; Cuthbert, Slade, Devoto, O'Flaherty; J Simmonds (Captain), Maunder; Hepburn, Cowan-Dickie, Williams, Jonny Gray, Hill, Kirsten, Capstick, S Simmonds.
Replacement: Yeandle, Moon, Street, Lonsdale, Armand, Townsend, H. Skinner, Hogg.
Penalty box: Hill (5 minutes).
Harlequins: Green; Lynagh, Marchant, Esterhuizen, Murley; Smith, Nursing; Marler, Baldwin, Louw, Symons, Lewis (Capt), Chisholm, Kenningham, Dombrandt.
Replacement: Joe Gray, Garcia Botta, Collier, Lamm, Lawday, Landajo, Tapuai, Northmore.
Penalty box: Blacksmith (28 minutes).
Referee: Matthew Carley (RFU).
Assistant Referees: Luke Pearce & Karl Dickson.
Official TV player: Ian Storm.