"To be honest, we're very close. We're best friends, "said María José Cortés with a giggle.
María-Inés, her younger sister, burst out laughing with her.
As they interacted, no one in the room at María-Inés' apartment in Tucson would know that the age difference between the sisters is nearly eight years. Instead, that distinction has been blurred by similarities, including a shared passion for entrepreneurship.
Born and raised in Nogales, María-Inés, 19, and María José, 26, run their own little shops that sell unique, one-of-a-kind products.
In addition to her business studies at the University of Arizona, María-Inés does an internship at a financial management company during the week. She runs her small business, JC Jewels, and sells unique hand-picked necklaces, bracelets, earrings, rings and more through Instagram and Open Houses.
The venture started with her mother Josefina Cortes – the source of the JC form in the company name. María-Inés' interest in business began in high school when she was helping her mother sell jewelry, which led her to use the money she earned to organize a scholarship for her senior year.
After seeing success selling jewelry, she decided to create an Instagram account to sell the remains of her project. Little did she know that she was going to have more success, which would ultimately lead her to build her online business. She has now filled orders for customers in New York, Oregon, California, and other countries.
María José works daily as a service manager at a bank while running her own small business, Di Luna Candles. She sells hand-cast, homemade candles through Instagram and Etsy. She also sells at farmers markets and open houses, and her candles are available in several Tucson stores.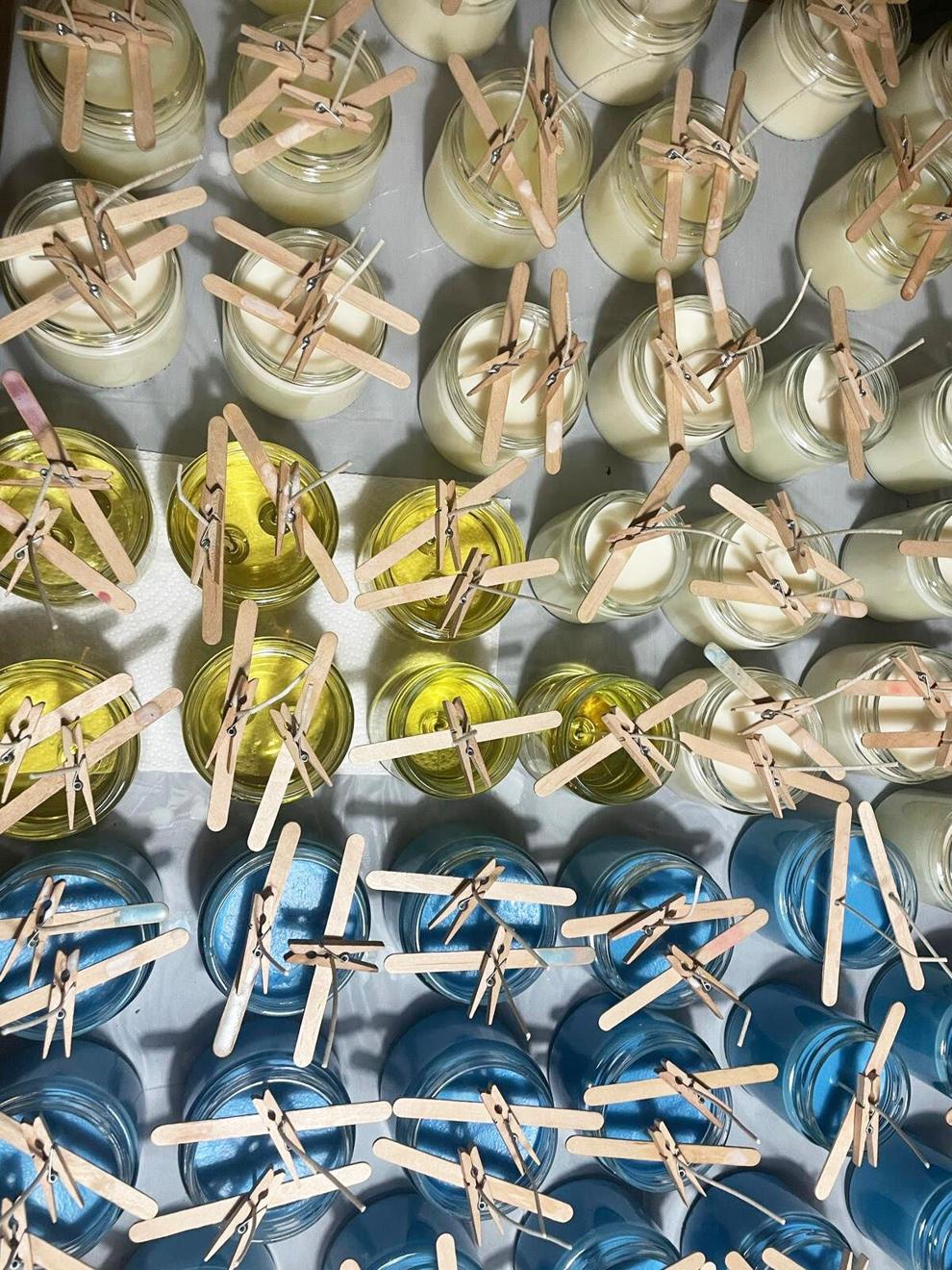 Maria Jose Cortes has a thriving business selling her homemade candles.

Contributed photo

Di Luna, which means "of the moon" in Italian, comes from a nickname she shared with her father because they called each other "mi luna", which means "my moon" in Spanish.
María José's interest in candle-making began during last year's quarantine when she decided to order a candle-making kit, a hobby that soon became her first business. Candle making takes a lot of patience, she said, as there are many steps including measuring out all of the ingredients accurately and checking the temperature of the wax to make sure it is just right.
After pouring the wax into the small jars, she has to wait a whole day for the candles to dry completely. Then she can clean, decorate and write on the glasses.
Starting with the first batch she made, she decided to sell some by posting them on her Instagram account. It was sold out on the first day, she said.
"I honestly thought it was going to be something small. I never thought it would be as big as it is now, "said María José.
Some of Di Luna's signature candles are the Rose Petals candle, a white candle decorated with real rose petals; the peppermint eucalyptus candle, a white candle with real eucalyptus pieces; and the Citrus Peach candle, a light orange candle with real dried orange pieces.
Regardless of the age difference, the sisters see themselves as role models.
María José started her business a few months after María-Inés started hers. Seeing her younger sister being so passionate about her business inspired her to pursue her own.
At the beginning of the candle making process, María José was frustrated and said she was discouraged and even thought of giving up. Her sister didn't allow it, told her to keep trying, and cheered her on during the trial.
María José described herself as a "perfectionist" and remembered asking her younger sister for her opinion on even the smallest details. She said that they love to bounce ideas off one another and come up with new ideas for their business in the hopes of one day owning a business together.
The hardworking nature of the Cortés sisters runs in their blood, says María José, as they grew up watching their parents work hard. Her father works in the import-export sector, and while her mother was a housewife, she always had small ancillary businesses, be it selling cakes and pastries or selling jewelry.
María-Inés remembered that her mother organized and hosted open houses for her jewelry in her house, which she called her "favorite day of the year" as a child. People went in and out of the Cortés' house all day, where they had tables set up with the trinkets and tables set with food for shoppers to enjoy during their visit.
With the support and encouragement of their parents, the sisters have continued to develop their businesses.
"My father is super creative and everything revolves around entrepreneurship. I feel like both of my parents have always been like that. You are very supportive of companies, if you wanted to start a business it was always about you. If you don't succeed, learn later and try again later, '"said María-Inés.
María José's childhood friend and compatriot from Nogales, Giselle Leyva, remembered that their friendship blossomed while they attended the same elementary school and high school. According to Leyva, different expectations are placed on him and his career path depending on where a young adult grows up.
"Young women should have the power to determine their own futures and to follow their dreams. You should be given the opportunity and tools to make those dreams come true. Just look at Di Luna, such a successful company. I would like to see a world where all women follow their dreams and support other women in making their dreams come true, "she said.
When the Cortés sisters shared their experience at María-Inés' apartment in Tucson, María José asked for a minute before opening up about her relationship with her younger sister for fear of tearing it apart.
After taking a deep breath, she said, "I'm proud of myself, and I'm proud of my sister too."
(Isabella Barron is from Nogales and graduated from Nogales High School in 2018. She recently completed her third year at the University of Arizona studying journalism.)