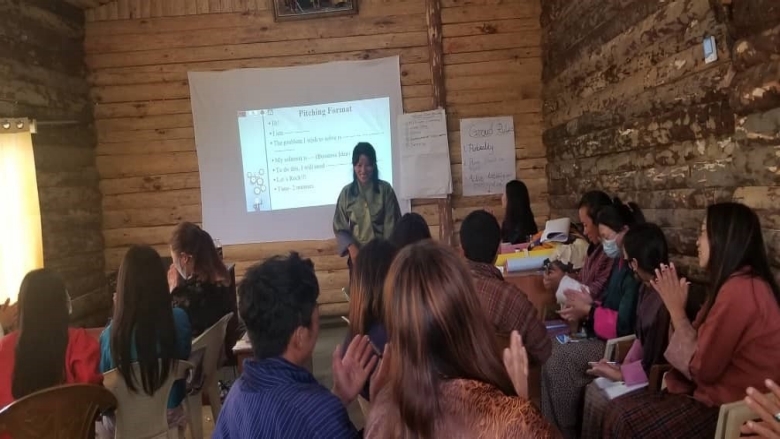 The project aims to help Bhutan respond to the effects of COVID-19 on the labor market, in particular by combating youth unemployment through export promotion.
The project will give young people in rural areas access to finance as well as commercial, technical and practical training. The topics of the training are change management, business spotting, business plan development, communication skills, personal branding, digital marketing, conflict management, negotiation, self-management, financial planning, and the design and implementation of business proposals. In addition, based on the participants' background, basic computer training was offered in order to bridge the digital divide.
"This program is a great blessing, especially for those of us who live in the villages and are left behind," says 32-year-old Sonam Tobgay, who now plans to start an ecotourism program with host families. "I have always associated farming with growing and producing vegetables. This program has helped me understand that there is more I can do. "He proudly shares his model of his dream host family project, which he would like to offer to local domestic tourists and international guests as soon as tourism in the country reopens.
A total of 500 school-age young people are trained in the basics of entrepreneurship, founding and running a company. Young men and women from this cohort, who come from selected project areas – including Haa, Chukha, Trongsa, Wangduephodrang, Dagana and Samtse – and are interested in setting up their own small business, receive further training and a corresponding scholarship to start their business.
"Soon I'll be the boss too!" Exclaimed 33-year-old Kinga Wangmo, who is currently working as a saleswoman for a small grocery store near her. Currently, young people in these remote districts have very little incentive to get involved in their local community, which is why many young rural youth have migrated to urban areas in and outside the country in search of employment opportunities. The emigration of these young people leads to a lack of agricultural labor, a weakening of the traditional social fabric in rural areas and the erosion of cultural and traditional values ​​among the unemployed young people who wander through urban centers. The project will therefore contribute to the overarching national goal of improving economic opportunities for unemployed youth, alleviating rural poverty and rural-to-urban migration, and reducing the vulnerability of local populations in the remote areas of the country, which are also most vulnerable of climate variability.
The project builds on past and ongoing World Bank projects that support the agricultural sector and rural development in Bhutan. It represents an opportunity to reduce extreme poverty in Bhutan and build the capacity of youth-led entrepreneurship in rural Bhutan to move from subsistence farming to commercial market-based farming.