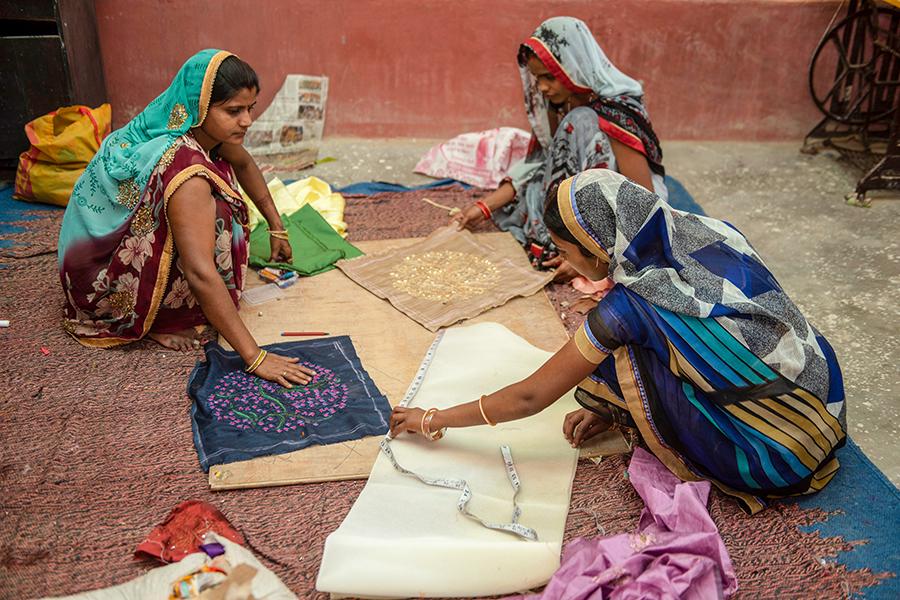 Self-employed women who make pillowcases from recycled materials in a workshop in Varanasi, Uttar Pradesh, India. Image: Shutterstock
/>
The American author Helen Keller once said: "We can do so little alone, together we can achieve so much."
When viewed in the context of the socio-economic development of vulnerable populations in low-income countries, these words form the basis on which all collaborations and multi-stakeholder interventions are built. When different stakeholders with their unique skills come together to work on a common vision – while engaging in a constructive and structured dialogue – this enables actionable changes. India's government-led collaborations, cross-sector partnerships and corporate social responsibility (CSR) programs are based on this principle. Businesses connect with organizations working on the ground, understand their challenges, identify the gaps in their implementation programs, and then build robust and dynamic campaigns to address them.
Take the example of IndusInd Bank Limited and its work in creating jobs for women. In cooperation with a local NGO, the bank carried out a project in three districts in Bihar that is committed to ensuring that women can assert themselves in society, make well-founded business decisions and become more involved in local governance structures. This enabled a faster transformation of the women-run companies in the project districts and enabled them to increase their professional and personal standing in society. Only when the challenges these women entrepreneurs faced were understood through the efforts of three different stakeholders was it possible to create a conducive and conducive environment for women-run businesses in the state.
An assessment of the success of multi-stakeholder interventions in the women's entrepreneurship ecosystem will show that while NGOs, philanthropic investments and corporations have pooled their resources to collaborate, there is still much to be done. Access to government programs such as MUDRA, Pradhan Mantri Rozgar Yojana, Startup India Program, Skill India, Udhyam Sakhi Portal for Women Entrepreneurs, and Niti Aayog's Women Entrepreneurship Platform remains a major problem as the benefits are not known or not understood at the time the basis – especially for women entrepreneurs in rural areas.
The "Landscape Study on Women Entrepreneurship" carried out by the EdelGive Foundation as part of our "UdyamStree" campaign showed that only one percent of all women surveyed were able to use government programs to their advantage. We also found that most women (94 percent) only decided to start a business after consulting with their families, who turn out to be the key micro-level stakeholders. Without their support, many women were convinced that their businesses could not be successful.
Limited job opportunities and increased domestic duties have resulted in a gradual decline in the participation of women in India. The pandemic has only exacerbated socio-economic and cultural barriers for women. According to the World Economic Forum's Global Gender Gap Report 2021, India still ranks 140th out of 153 countries. Indian women's contribution to GDP is 18 percent versus the global average of 37 percent, with only 14 percent of women choosing careers as entrepreneurs.
It wasn't until 2018 that India saw an all-time low in female labor force participation – 23.5 percent of the total labor force. In addition, women continue to face problems such as increased domestic duties (exacerbated by the pandemic), shrinking or complete loss of livelihoods, reduced mobility and economic opportunities, and constant surveillance by their families and community members. Given the complexity inherent in the socio-economic makeup of Indian societies, multi-stakeholder interventions in the field of female entrepreneurship need to focus on deconstructing gender stereotypes; Motivation and motivation of women through qualification measures; Providing access to grants; and focus on raising awareness about available resources such as social systems, processes and entitlements.
Significantly, several women from rural and semi-urban India continue to work in the informal labor market, which offers them absolutely no job security or social protection as it operates outside the scope of national law. In addition, the expendable nature of the disorganized workforce leads to widespread exploitation. According to a report by the What Works to Advance Women and Girls in the Economy initiative, almost 91 percent of women in India are employed in the informal sector, where their income tends to fluctuate, they have no bargaining power, and they tend to work in appalling conditions and are often banished to the lowest ranks of society by archaic and patriarchal systems. In this context, as with several complex development sector scenarios, the use of multi-stakeholder interventions consisting of robust capacity-building models and awareness-raising activations such as the IndusInd program often proves useful.
However, for this to be properly implemented and to produce tangible results, individual actors at the macro level of the ecosystem – the government and local authorities, local NGOs, financial institutions, consultants, gender experts, ASHA employees, self-help groups, media channels, political decision-makers and legal experts among others – need to work together. Only then will skills development be given priority, participation in the organized labor market promoted and the infrastructure to support small and medium-sized companies run by women improved.
Actors across the ecosystem need to come together to change the perception of women in society. Promoting women's entrepreneurship cannot be achieved in silos, be it at home, where the family is extremely central to women's development, or through government initiatives that prioritize the empowerment agenda. We must continue to work tirelessly for all women across India, offering them equal opportunities to earn a living, develop their self-esteem, improve their financial and social standing and maintain their independence.
The author is Executive Chairman of the EdelGive Foundation.