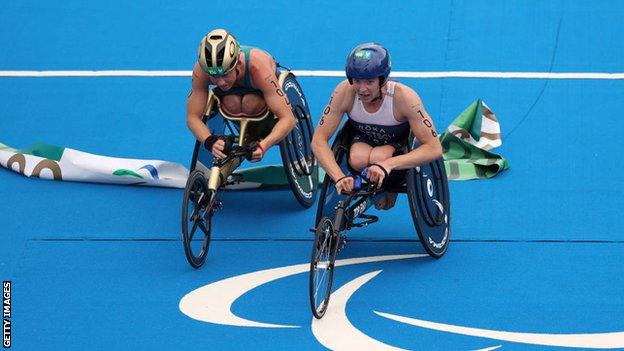 Venue:
Tokyo, Japan
Events:
August 24-September 5
Time in Tokyo:
BST +8
Cover:
Follow on Radio 5 Live and on the BBC Sports website
Hannah Cockroft set a new world record, winning her third T34 100-meter crown in a row and claiming a stunning sixth Paralympic title when Britain won six gold medals on day five in Tokyo.
Cockroft, 29, beat her own record with a time of 16.39 seconds to overtake his teammate Kare Adeneganwho took silver in front of Australian Robyn Lambird.
the Wheelchair rugby Team took a historic victory in their final, beating the United States 54-49 for GB's first ever Paralympic medal of any color in the sport.
There were two row golds as GB's PR2 mixed double sculls pair Lauren Rowles and Laurence Whiteley, and the mixed team of four PR3 with helmsman successfully defended their respective Paralympic titles.
Rowles and Whiteley, who are also reigning world and European champions, won with 4.86 seconds ahead of the Netherlands, while China took bronze.
The Mixed Four of 2016 gold medalists James Fox, Plus Ellen Buttrick, Ollie Stanhope, Giedre Rakauskaite and helmsman Erin Kennedy finished 11.05 seconds ahead of closest rival USA.
In triathlon, GB's Lauren Steadman was victorious in a women's PTS5 event that also included Claire Cashmore Win bronze while George Peasgood took silver in the men's race behind Rio champion Martin Schulz.
Judoka Chris Skelley triumphed in the -100kg final Elliot Stewart Silver in the -90kg category.
Defending champion Will Bayley, who like Steadman is a former Strictly Come Dancing participant, had to be content with silver when he was beaten in table tennis single class seven by the Chinese Yan Shuo and lost 3-1 in the final after the first game.
The swimmers added further medals to the team standings with silver for Ellie Challis, the youngest member of the ParalympicsGB team, in the S3 50m back and also for Louise Fiddes in SB14 100m chest, with bronze for Scott Quin in the men's run.
In wheelchair fencing, that is Men's Foil Team from Piers Gilliver, Dimitri Coutya and Oliver Lam Watson are in the decision-making process of their event from 11:30 a.m.
Wheelchair racer Cockroft, a 12-time world champion, has stylishly expanded her impressive collection of Paralympic titles after her triple over 100 m, 400 m and 800 m in Rio 2016.
The ParalympicsGB co-captain, who will also contest the 800m in Tokyo, had improved her world records in the 100m, 200m, 400m and 800m earlier this year.
And although Adenegan got off to a faster start at 5:03 p.m., Cockroft overtook her compatriot.
"The last 18 months have been so strange and so, so hard. I just wish the stadium was full to see it happen, "Cockroft told Channel 4.
"It's so special. It just feels like a huge, massive relief. We didn't know if we would be here in Tokyo. I was so nervous. I did everything I could and luckily it was enough. "
"I know Kare is a strong starter. She's always in a good mood, so I knew I had to let her go and take my time."
Next, when she went for the 800m title, she added, "The 800m is my comfortable event now. I'm confident but it's all to play."
GB rowers rule again
On the Sea Forest Waterway, Whiteley celebrated his 30th birthday with a second Paralympic title alongside Rowles as the pair steadily built the race.
"Being 30th in Japan in a Paralympic final and having Lauren with a gold medal around our necks yes, I can think of worse," he told BBC Radio 5 Live.
"We did what we set out to do. We knew they would get out quickly, but we knew we would come back six minutes later. We have absolute confidence and a lot of confidence."
Rowles, 23, said she has faced major challenges since winning gold five years ago.
"After 2017 and after we won gold in Rio, I wasn't in a good place in my life. I really didn't want to be on this planet," she said.
"The pressures of competitive sport just took me away from what's important in life and that's happy.
"To be the happiest person I've ever crossed, I don't think this feat would ever have happened if I had just kept fighting my way and kept beating myself and not getting over the fear.
"We've always stuck together and supported each other and I'm grateful to Laurence for letting me do that."
Whiteley and Rowles are the world, European and Paralympic champions of their event
The four Brits continued to dominate the tournament, with the last defeat coming at the 2010 World Cup.
"We are incredibly tough on ourselves, we always push the standards, complacency is not an option for us," said Fox.
"There have been a lot of hard transplants. I had hip surgeries and multiple injections to get here but I am so happy to be part of the UK success."
Gold, silver and bronze for UK triathletes
The victory in the women's triathlon was a relief for Steadman, who had to be content with silver in the PT4 triathlon in Rio 2016 after a costly swimming mistake when she missed a crucial buoy.
However, she did not make such a mistake in Tokyo and landed four minutes 46 seconds in one hour – 41 seconds ahead of the defending champion of the USA, Grace Norman – and Cashmore two minutes and 50 seconds behind her compatriot.
American Norman led after the 750-meter swim, but Steadman swept past her rival on the 20k bike ride, building an 18-second lead that she built on in the final 5k run. Cashmore took bronze despite receiving a one-minute penalty for a drafting violation.
In the men's PTS5, Peasgood took the lead in swimming, but was finally caught halfway by the German Schulz and ended up 45 seconds behind.
World clock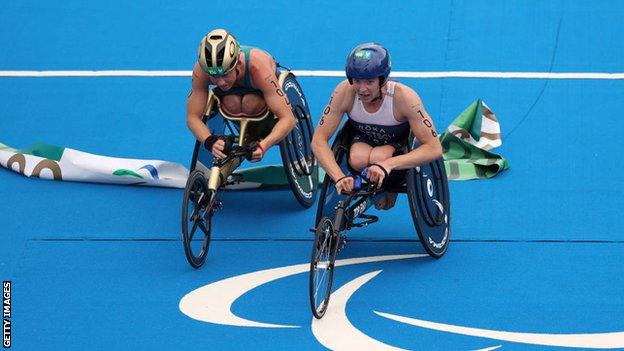 Kendall Gretsch (right) caught Lauren Parker (left) in the closing stages
The PTWC women's triathlon came to a dramatic end when the US did Kendall Gretsch, 29, Australian rider just left Lauren Parker in a sprint finish.
Gretsch, who won two Paralympic winter gold medals in skiing in Pyeongchang in 2018, officially won with 0.01 seconds as she overtook Parker on the last straight.
At the men's PTWC event, the Netherlands have Jetze Platt secured consecutive Paralympic gold following its success when the sport debuted in Rio.
Unbeaten in triathlon events since 2016, Platt is also aiming for a handwheel medal at the start of road cycling events.
Over in athletics there was an eventful conclusion to the men's F40 shot put. Iraq's Garrah Tnaiash achieved a world record throw of 11.15 m, just for Deni Gnezdilov of the Russian Paralympic Committee to beat him an inch in his last attempt.
Ukrainian rower Roman Polianskyi The world champion defended his PR1 title in the men's single scull.
The 34-year-old was more than 12 seconds ahead of the Australian Erik Horrie, who took silver for the third time in a row, while the Briton Benjamin Pritchard, who was paralyzed after a bike accident in 2016, was fifth.